35 Best Taylor Swift Quotes To Inspire and Empower
Taylor Swift (Taylor Alison Swift) is a highly acclaimed American singer-songwriter known for her contributions to both pop and country music genres.
With her narrative songwriting, often drawing from her personal experiences, Swift has captured the hearts of millions worldwide.
As her career progressed, Taylor Swift transitioned from country to pop music, demonstrating her versatility and broad appeal. Albums like "Fearless," "Speak Now," "Red," and "1989" showcased her growth as an artist, earning critical acclaim and numerous awards.
Beyond her musical prowess, Taylor Swift is also known for her insightful and motivational quotes that resonate with people from all walks of life.
In this article, we'll explore some of the best Taylor Swift quotes that can inspire and motivate you in various aspects of life.
So, let the melodies of Taylor Swift's words be the soundtrack to your journey.
Best Taylor Swift Quotes
"People haven't always been there for me, but music always has."
"Fearless is living in spite of those things that scare you to death."
"I think there is a lesson in knowing that you can live your life in a way that you're proud of and people are still gonna take shots."
"You are not the opinion of someone who doesn't know you."
"The lesson I've learned the most often in life is that you're always going to know more in the future than you know now."
"You have people come into your life shockingly and surprisingly. You have losses that you never thought you'd experience. You have rejection and you have learn how to deal with that and how to get up the next day and go on with it."
"In life and love, you learn that there comes a time to let go and move on."
"Red is such an interesting color to correlate with emotion because it's on both ends of the spectrum. On one end you have happiness, falling in love, infatuation with someone, passion, all that. On the other end, you've got obsession, jealousy, danger, fear, anger and frustration."
"The way I look at love is you have to follow it, and fall hard, if you fall hard. You have to forget about what everyone else thinks. It has to be an us-against-the-world mentality. You have to make it work by prioritizing it, and by falling in love really fast, without thinking too hard. If I think too hard about a relationship I'll talk myself out of it. I have rules for a lot of areas of my life. Love is not going to be one of them."
"I've always felt music is the only way to give an instantaneous moment the feel of slow motion. To romanticize it and glorify it and give it a soundtrack and a rhythm."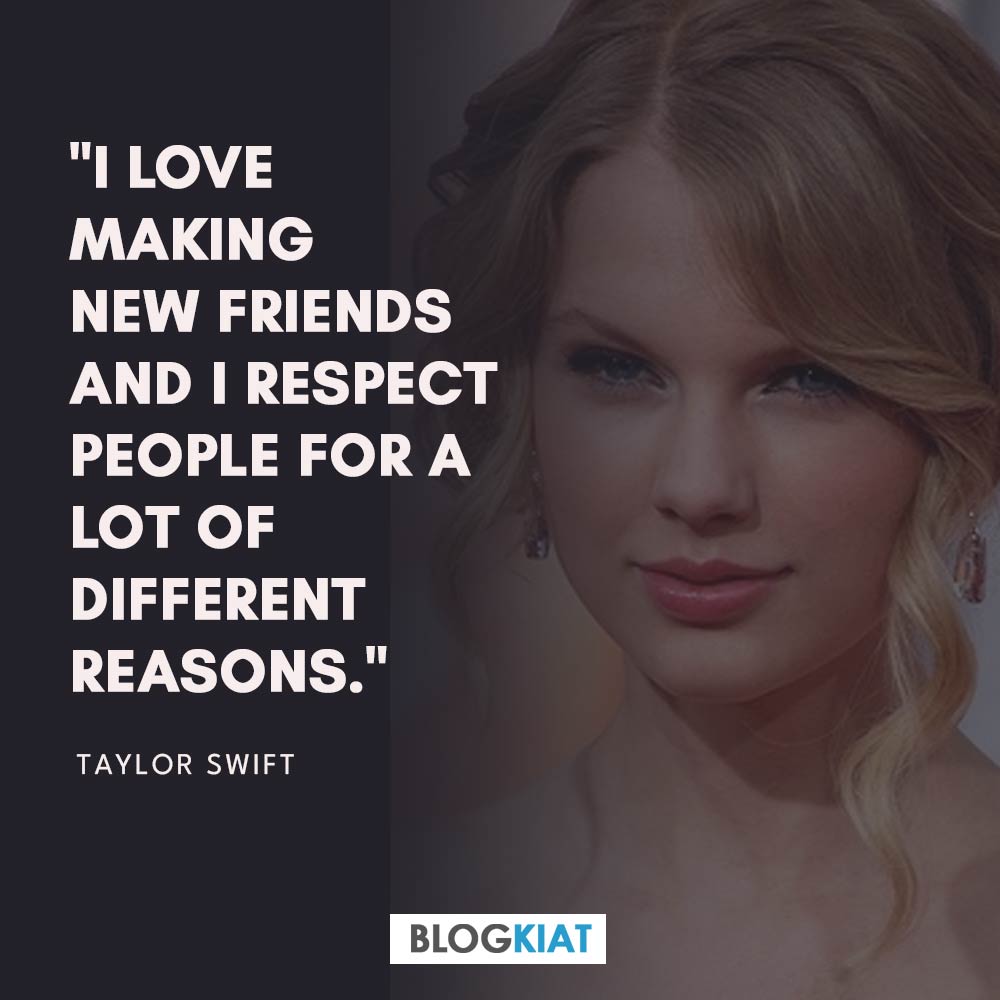 "I love making new friends and I respect people for a lot of different reasons."
"If somebody hurts you, it's okay to cry a river, just remember to build a bridge and get over it."
"This is a new year. A new beginning. And things will change."
"I'm not the girl who always has a boyfriend. I'm the girl who rarely has a boyfriend."
"People are going to judge you anyway, so you might as well do what you want."
"The only one who's got enough of me to break my heart."
"It's hard to fight when the fight ain't fair."
"Just because you're clean, don't mean you don't miss it." Taylor Swift – Clean Lyrics
"In life, you learn lessons. And sometimes you learn them the hard way. Sometimes you learn them too late."
"I've always felt music is the only way to give an instantaneous moment the feel of slow motion."
"I'm intimidated by the fear of being average."
"Life is a tough crowd, 32 and still growin' up now." – Innocent Song by Taylor Swift
"I've been giving out chances every time and all you do is let me down." – You're Not Sorry Song by Taylor Swift
"I've found time can heal most anything and you just might find who you're supposed to be."
"I don't think you should wait. I think you should speak now."
"You can walk away and say 'We don't need this.' but something in your eyes says 'We can beat this.'"
"I think every girl's dream is to find a bad boy at the right time, when he wants to not be bad anymore."
"I think the perfection of love is that it's not perfect."
"The cool thing about reading is that when you read a short story or you read something that takes your mind and expands where your thoughts can go, that's powerful."
"You have to be happy with who you are and the choices you make. If you don't like yourself, you'll never be truly happy."
"I approach love differently now that I know it's hard for it to work out."
"Happiness and confidence are the prettiest things you can wear."
"I'm not the girl who always has a boyfriend. I'm the girl who rarely has a boyfriend."
"I think fearless is having fears but jumping anyway."
"I'm not afraid to write my feelings in songs."
Also Read:
Best Drake Quotes
XXXTentacion Quotes
Morgan Wallen Quotes
Leonard Bernstein Quotes
Jerry Garcia Quotes
Jimi Hendrix Quotes
Disclaimer: All quotes credits goes to the respective writers/authors and full credits goes to them. We don't own any copyrights we have curated from various sources.