30 Popular Quotes by Jimi Hendrix
Looking for popular Jimi Hendrix quotes?
Jimi Hendrix(James Marshall Hendrix) was a highly influential American rock guitarist, singer, and songwriter. He was born on November 27, 1942, in Seattle, Washington.
Hendrix was quickly known for his innovative guitar playing and flamboyant stage presence.
In 1969, Hendrix performed at the Woodstock Music and Art Fair, where he delivered a legendary performance of "The Star-Spangled Banner". He died later that year at the age of 27 lasting a mark on the world of rock music..
Hendrix wrote and recorded a catalog of timeless songs that continue to resonate with fans of all ages. Classics like "Purple Haze," "All Along the Watchtower," "Voodoo Child (Slight Return)," and "Little Wing" showcase his songwriting genius.
Despite his tragically short career, Jimi Hendrix's influence on subsequent generations of musicians is immeasurable. He continues to be celebrated by artists of all genres, and his recordings are timeless.
Here are some popular quotes from Jimi Hendrix to fight for your dreams:
Best Jimi Hendrix Quotes
1. "Music doesn't lie. If there is something to be changed in this world, then it can only happen through music." ~ Jimi Hendrix
2. "When the power of love overcomes the love of power, the world will know peace." ~ Jimi Hendrix
3. "I'm the one that's got to die when it's time for me to die, so let me live my life the way I want to." ~ Jimi Hendrix
4. "My nature just changes." ~ Jimi Hendrix
5. "If I'm free, it's because I'm always running." ~ Jimi Hendrix
6. "Even Castles made of sand, fall into the sea, eventually." ~ Jimi Hendrix
7. "You have to give people something to dream on." ~ Jimi Hendrix
8. "I got a pet monkey called Charlie Chan." ~ Jimi Hendrix
9. "Knowledge speaks, but wisdom listens." ~ Jimi Hendrix
10. "Excuse me while I kiss the sky." ~ Jimi Hendrix
11. "You have to go on and be crazy. Craziness is like heaven." ~ Jimi Hendrix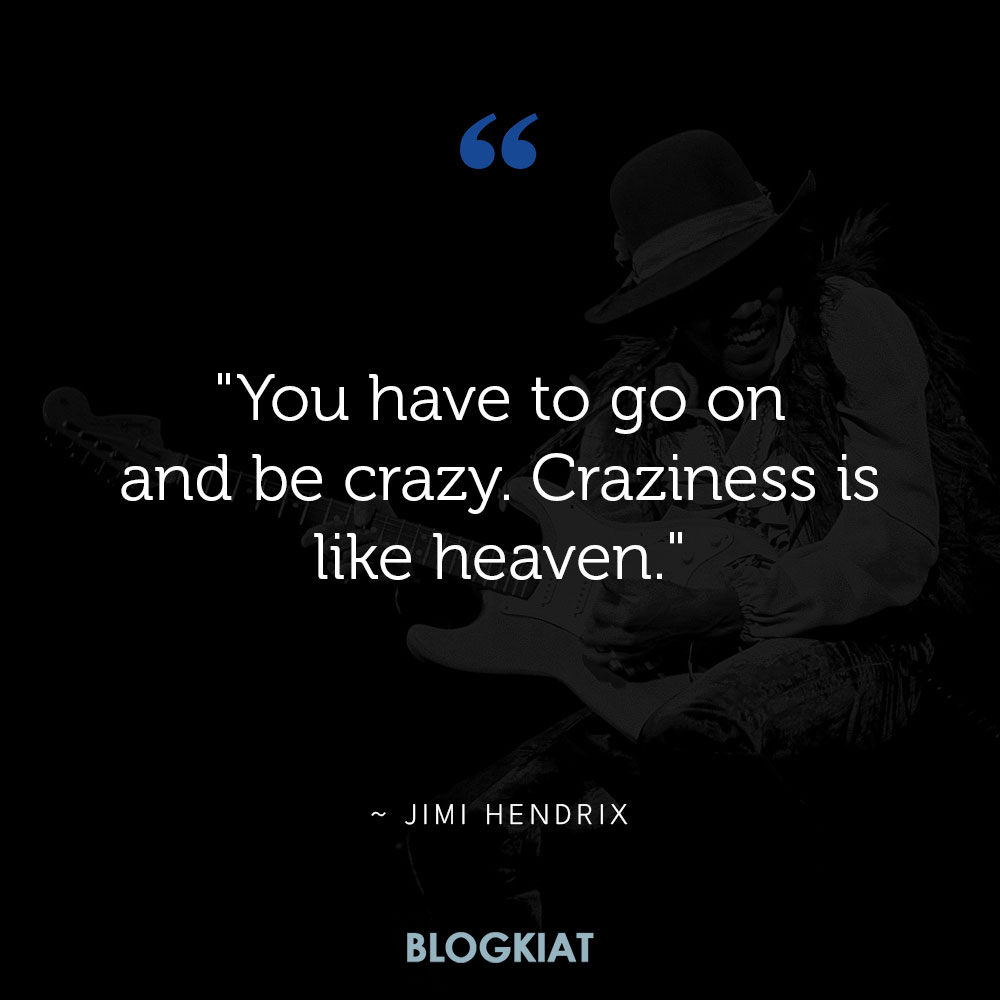 12. "My goal is to be one with the music. I just dedicate my whole life to this art." ~ Jimi Hendrix
13. "Don't raise me up, I am but a messenger." ~ Jimi Hendrix
14. "Technically, I'm not a guitar player, all I play is truth and emotion." ~ Jimi Hendrix
15. "Music is my religion." ~ Jimi Hendrix
16. "The story of life is quicker than the blink of an eye, the story of love is hello, goodbye." ~ Jimi Hendrix
17. "Music is a safe kind of high." ~ Jimi Hendrix
18. "I've been imitated so well, I've heard people copy my mistakes." ~ Jimi Hendrix
19. "The time I burned my guitar, it was like a sacrifice. You sacrifice the things you love. I love my guitar." ~ Jimi Hendrix
20. "You don't have to be singing about love all the time in order to give love to the people. You don't have to keep flashing those words all the time." ~ Jimi Hendrix
21. "I try to use my music to move these people to act." ~ Jimi Hendrix
22. "It's funny how most people love the dead, once you're dead, you're made for life." ~ Jimi Hendrix
23. "I'm the one who has to die when it's time for me to die, so let me live my life the way I want to." ~ Jimi Hendrix
24. "You have to give people something to dream on." ~ Jimi Hendrix
25. "Blues is easy to play, but hard to feel." ~ Jimi Hendrix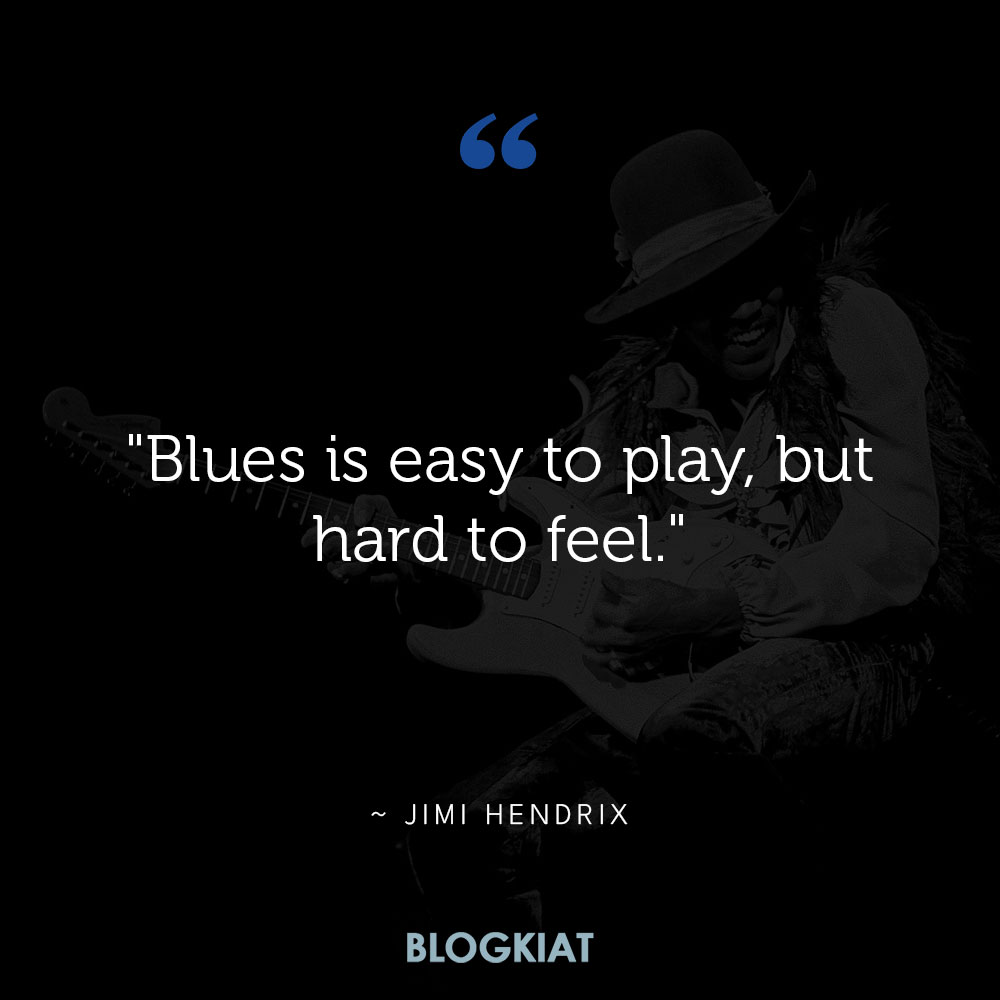 26. "I don't have nothing to regret at all in the past, except that I might've unintentionally hurt somebody else or something." ~ Jimi Hendrix
27. "When I die, I want people to play my music, go wild and freak out and do anything they want to do." ~ Jimi Hendrix
28. "I wish they'd had electric guitars in cotton fields back in the good old days. A whole lot of things would've been straightened out." ~ Jimi Hendrix
29. "You have to forget about what other people say, when you're supposed to die, or when you're supposed to be loving. You have to forget about all these things." ~ Jimi Hendrix
30. "Even castles made of sand, fall into the sea, eventually." ~ Jimi Hendrix
You may also like:
14 Best Leonard Bernstein Quotes On Music & Life
85 Best Drake Quotes To Inspire You
32 Best XXXTentacion Quotes & Sayings