34 Motivational Thanksgiving Quotes for Your Everyday Life
Looking for motivational Thanksgiving quotes to inspire you every day? With the power of motivation and thankfulness, improve your daily experiences. Dive into this collection of quotes to inspire a brighter, more fulfilling everyday life.
Thanksgiving is a special time of the year when families and friends come together with our loved ones to celebrate the blessings in our lives.
While it's easy to get caught up in the excitement of holiday preparations, it's equally important to reflect on the true essence of Thanksgiving – gratitude.
And what better way to express our gratitude than by sharing motivational Thanksgiving quotes that inspire and uplift us? These quotes encourage a positive outlook on life. By focusing on the good, we can overcome difficulties and face our problems with a more optimistic attitude.
Expressing thanks strengthens our bonds with family, friends, and our community. Start reading and be inspired!
Motivational Quotes About Thanksgiving
"Gratitude can transform common days into thanksgivings, turn routine jobs into joy, and change ordinary opportunities into blessings." – William Arthur Ward
"The thankful heart opens our eyes to a multitude of blessings that continually surround us." – James E. Faust
"Gratitude makes sense of our past, brings peace for today, and creates a vision for tomorrow." – Melody Beattie
"In every thing give thanks: for this is the will of God." – 1 Thessalonians 5:18
"Thanksgiving is a time of togetherness and gratitude." – Nigel Hamilton
"Gratitude is not only the greatest of virtues, but the parent of all others." – Cicero
"Thanksgiving, after all, is a word of action." – W.J. Cameron
"Gratitude is the sign of noble souls." – Aesop
"Appreciation can change a day, even change a life. Your willingness to put it into words is all that is necessary." – Margaret Cousins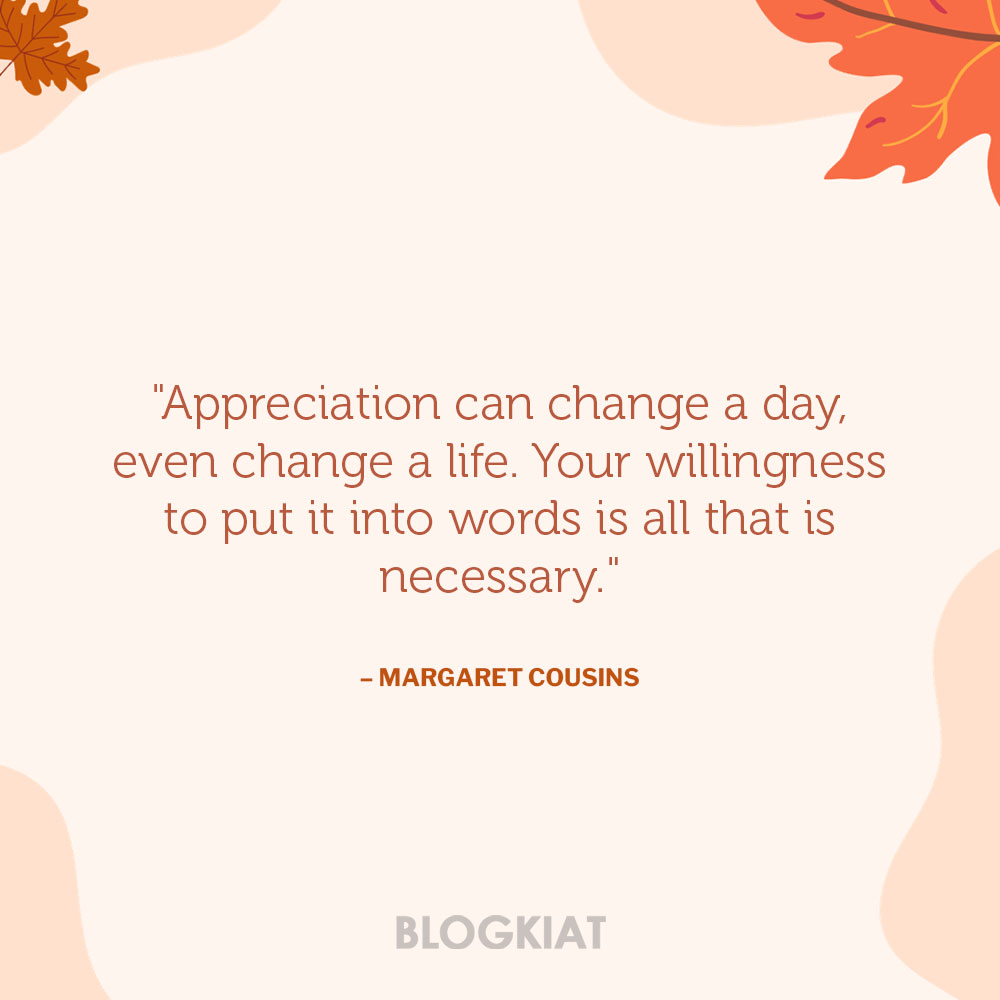 "Let us be grateful to the people who make us happy; they are the charming gardeners who make our souls blossom." – Marcel Proust
"Gratitude unlocks the fullness of life. It turns what we have into enough, and more." – Melody Beattie
"The roots of all goodness lie in the soil of appreciation for goodness." – Dalai Lama
"There is always something to be thankful for." – Author Unknown
"The more you are thankful, the more you attract things to be thankful for." – Unknown
"The thankful receiver bears a plentiful harvest." – William Blake
"If you want to turn your life around, try thankfulness. It will change your life mightily." – Gerald Good
"Gratitude is the memory of the heart." – Jean Baptiste Massieu
"Silent gratitude isn't much use to anyone." – G.B. Stern
"Ingratitude is the daughter of pride." – Miguel de Cervantes
"The unthankful heart discovers no mercies, but the thankful heart will find, in every hour, some heavenly blessings." – Henry Ward Beecher
"Thanksgiving is a time of reflection and appreciation." – Kevin Ngo
"Thanksgiving is an emotional time. People travel thousands of miles to be with people they see only once a year. And then discover once a year is way too often." – Johnny Carson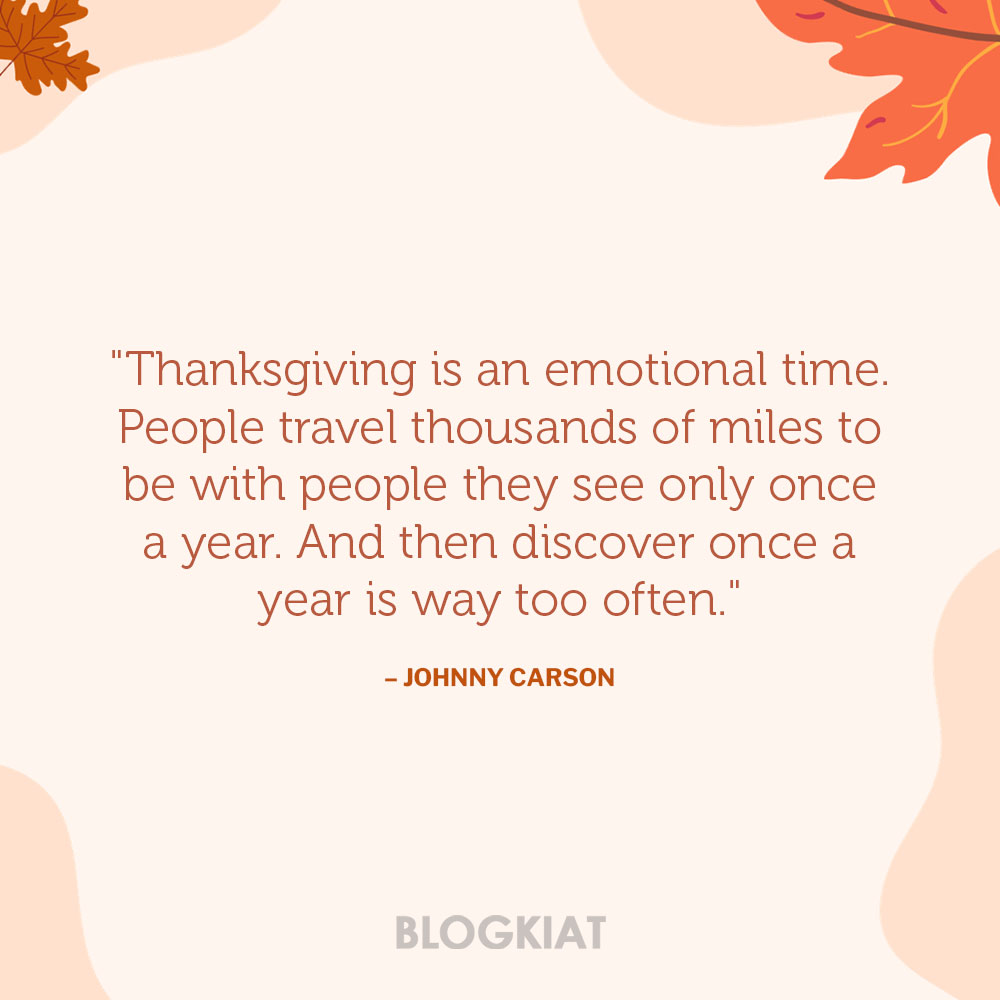 "Gratitude is when memory is stored in the heart and not in the mind." – Lionel Hampton
"If you are really thankful, what do you do? You share." – W. Clement Stone
"Gratitude is the fairest blossom which springs from the soul." – Henry Ward Beecher
"Thanksgiving creates abundance." – Ann Voskamp
"Gratitude is the healthiest of all human emotions. The more you express gratitude for what you have, the more likely you will have even more to express gratitude for." – Zig Ziglar
"Thanksgiving Day is a good day to recommit our energies to giving thanks and just giving." – Amy Grant
"Gratitude turns what we have into enough." – Aesop
"When we give cheerfully and accept gratefully, everyone is blessed." – Maya Angelou
"Gratitude is the most exquisite form of courtesy." – Jacques Maritain
"Not what we say about our blessings, but how we use them, is the true measure of our Thanksgiving." – W.T. Purkiser
"Gratitude is the open door to abundance." – Unknown
"Thanksgiving, man. Not a good day to be my pants." – Kevin James
Disclaimer: All quotes credits goes to the respective writers/authors and full credits goes to them. We don't own any copyrights we have curated from various sources.
FAQS(Frequently Asked Questions)
What is thanksgiving?
Thanksgiving is a national holiday celebrated by both Americans and Canadians every year on the fourth Thursday in November. This day is dedicated to giving appreciation for the blessings received over the previous year with family and friends.
When is Thanksgiving 2023?
Thanksgiving falls on November 23, 2023.
How is Thanksgiving celebrated?
Thanksgiving is celebrated with a festive meal that includes turkey, stuffing, and various side dishes. Families and friends come together to share this meal and express gratitude. Parades, football games, and volunteering are also common Thanksgiving activities.
Why is gratitude important in everyday life?
Gratitude helps shift our focus to the positive aspects of our lives, promotes happiness, and strengthens relationships.
Can gratitude improve mental health?
Yes, practicing gratitude has been associated to reduced stress, increased happiness, and improved overall mental well-being.
Is Thanksgiving only about giving thanks?
Thanksgiving is a time to express gratitude, but it also serves as a reminder to reflect on our blessings and give back to others.