25+ Inspirational Walt Disney Quotes
Walt Disney who is also very famous by the name of Walter Elias Disney was born in Chicago, Illinois, the U.S. on December 5, 1901. He is also the creator of cartoon characters Mickey Mouse and Donald Duck. Disneyland was an amusement park that was planned and built by Walt Disney that opened near Los Angeles in the year 1955. Also before his death, he started building a second such park which was known as Walt Disney World that was located near Orlando, Florida.
Walt Disney has so many long thoughts of creating feature-length animated films along with the shorts. So in the year 1934, started working on snow white and the seven dwarfs which were a version of a classic fairy tale and a project that needed great coordination of studio talent for which Disney possesses a unique capacity.
During the early phase of 1950, Disney had commenced several plants for building a huge amusement park near Los Angeles. Disneyland opened in the year 1955 and created a remarkable presence of nostalgic sentiment and fantasy in its design and construction.
In addition to being a pioneer in the field of animation, he was also an inspiration to millions of people worldwide with his quotes. Here are walt disney motivational quotes that still inspire and drive people today.
Inspirational Walt Disney Quotes
Why worry? If you've done the very best you can, worrying won't make it any better.
It's kind of fun to do the impossible.
You reach a point where you don't work for money.
The more you like yourself, the less you are like anyone else, which makes you unique.
Why worry? If you've done the very best you can, worrying won't make it any better.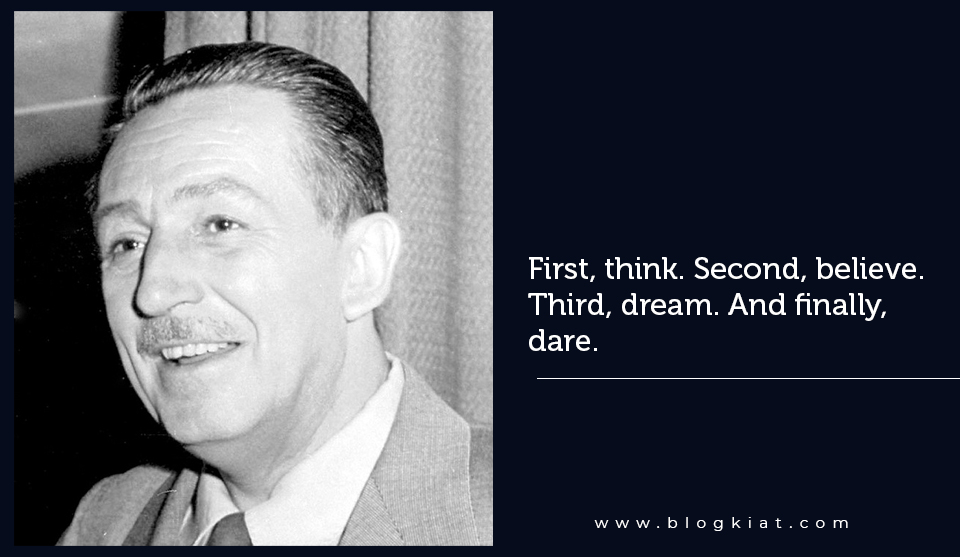 Get a good idea and stay with it. Dog it, and work at it until it's done right.
The difference between winning and losing is most often not quitting.
All you've got to do is own up to your ignorance honestly, and you'll find people who are eager to fill your head with information.
Never get bored or cynical. Yesterday is a thing of the past.
All cartoon characters and fables must be exaggeration, caricatures. It is the very nature of fantasy and fable.
I never called my work an 'art' It's part of show business, the business of building entertainment.
I am not influenced by the techniques or fashions of any other motion picture company.
I have been up against tough competition all my life. I wouldn't know how to get along without it.
You reach a point where you don't work for money.
I'd say it's been my biggest problem all my life… it's money. It takes a lot of money to make these dreams come true.
You can't just let nature run wild.
Don't let your fears take the place of your dreams.
Whatever you do, do it well.
When you're curious, you find lots of interesting things to do.
I dream, I test my dreams against my beliefs, I dare to take risks, and I execute my vision to make those dreams come true.
Money doesn't excite me, my ideas excite me.
My greatest reward is that I have been able to build this wonderful organization.
We allow no geniuses around our Studio.
I don't want the public to see the world they live in while they're in the Park (Disneyland). I want to feel they're in another world.
Disclaimer: All quotes credits goes to the respective writers/authors and full credits goes to them. We don't own any copyrights we have curated from various sources.