20 Famous Winnie the pooh quotes
Do you know who is Winnie the pooh? if not let us tell you he is a silly old bear who is the favorites of millions of children. He also taught us some life-changing lessons which motivate us and teach us a way to live a life. Here in this article, we have gathered some famous Winnie the pooh quotes.
But before we proceed let's have a look on some facts about Winne the Pooh. Like who developed this character how many films and television series are there on Pooh. What are the awards he got I can assure you that you will be shocked with his popularity.
Know more about Winnie the pooh
He is a fictional teddy bear character in various Film and television programs under the banner of The Walt Disney Company and the character created by the English author A.A. Milne. Winnie the pooh is a collection of tales about a sweet, calm, still and reflective teddy bear.
There are five Theatrical shorts, fifteen Feature- length films and seven Television series based on Winnie the Pooh.
It was a most popular television series that in 2002, Winnie-the -pooh successfully get the 27th rank in the list of 50 greatest cartoon characters. And also in April 2006, pooh was the fourth character after Mickey Mouse, Snow White, and Donald Duck who was honored with a star on the Hollywood Walk of Fame. In 2015 pooh made a cameo in the rendition of World of Color in the honor of Walt Disney.
He is not only a favorite of children's but also a teacher to the youngsters because he taught us the real meaning of friendships, love and how to be always sweet as honey. The main audience of Winne the pooh are children's but the characters offer some powerful life lessons and messages that can be beneficial to everyone irrespective of age.
Winnie- the – pooh stories are not only fun and relaxing to read or watch on television but also to learn amazing life lessons.
Winnie the Pooh Quotes
So, let's have a look at 25 Famous quotes by Winnie the pooh which will encourage you to believe in love and also these quotes will teach you the true meaning of friendships and relationships.
Sometimes the smallest things take up the most room in your heart. — Winnie the Pooh
You're braver than you believe, stronger than you seem, and smarter than you think. — Winnie the Pooh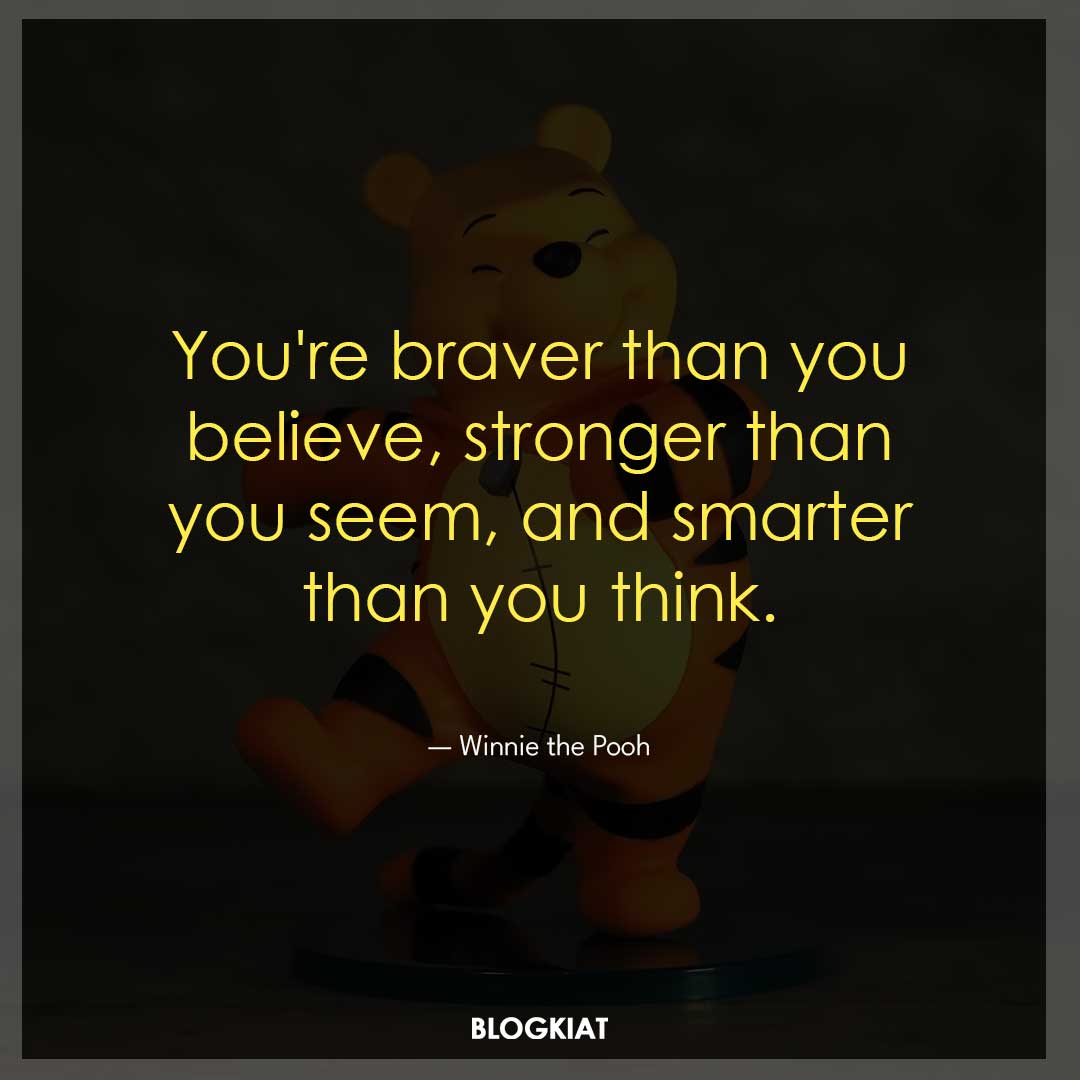 I always get to where I'm going by walking away from where I've been. — Winnie the Pooh
The things that make me different are the things that make me. — Winnie the Pooh
When you go after honey with a balloon, the great thing is to not let the bees know you're coming. — Winnie the Pooh
If you live to be a hundred, I hope I live to be a hundred minus one day, so that I never have to live a day without you. — Winnie the Pooh
Some people care too much. I think it's called love. — Winnie the Pooh quotes about love
People say nothing is impossible, but I do nothing every day. — Winnie the Pooh
Doing nothing often leads to the very best of Something. — Winnie the Pooh
Don't underestimate the value of Doing Nothing, of just going along, listening to all the things you can't hear, and not bothering. — Winnie the Pooh
A day without a friend is like a pot without a single drop of honey left inside. — Winnie the Pooh
The most important thing is, even when we're apart … I'll always be with you … — Winnie the Pooh
I think we dream so we don't have to be apart for so long. If we're in each other's dreams, we can be together all the time. — Winnie the Pooh
It is more fun to talk with someone who doesn't use long, difficult words but rather short, easy words like What about lunch? — Winnie the Pooh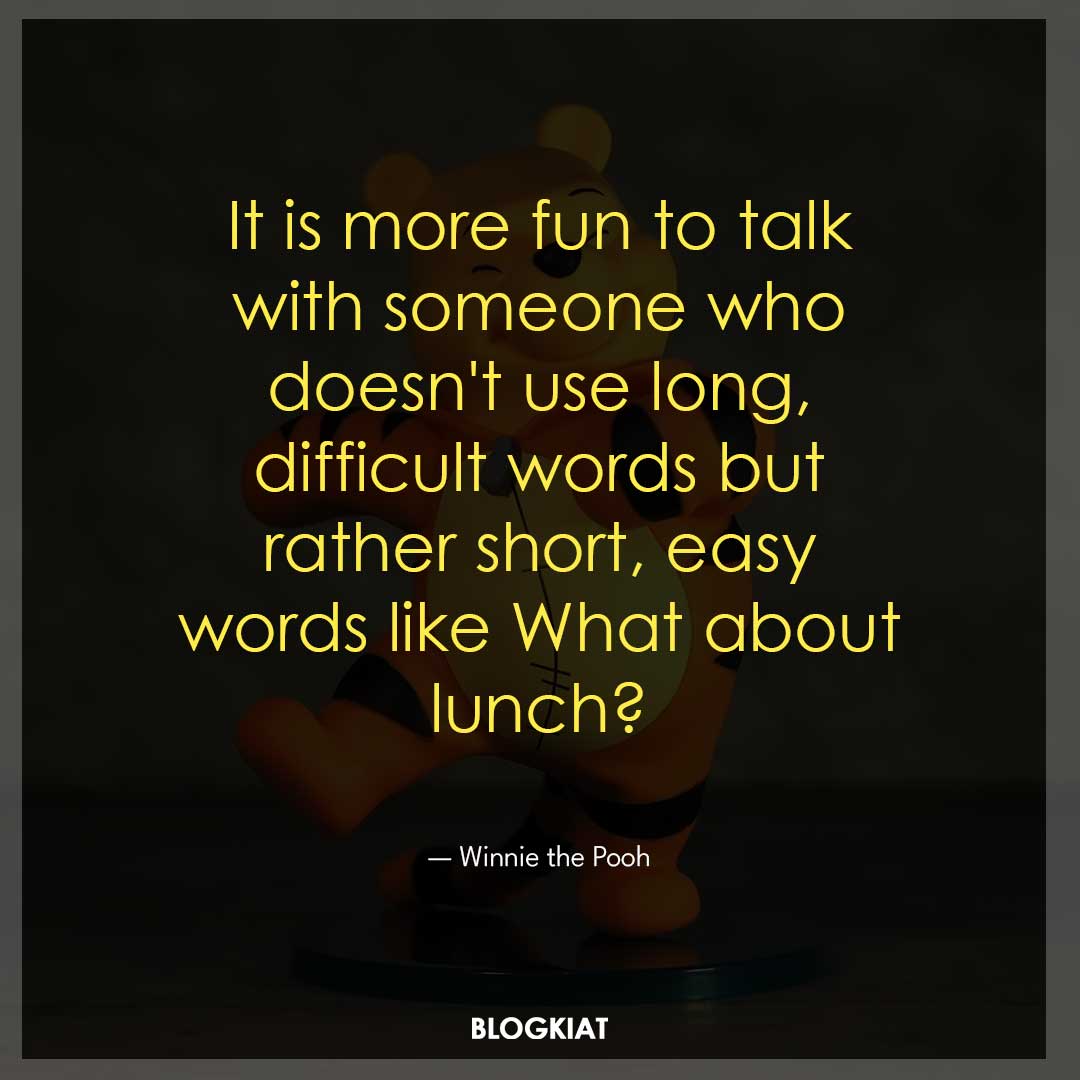 Rivers know this: There is no hurry. We shall get there some day. — Winnie the Pooh
You can't stay in your corner of the Forest waiting for others to come to you. You have to go to them sometimes. — Winnie the Pooh
Well, y'see, we keep looking for home, but we keep finding this pit, so I just thought that if we looked for this pit, we might find home. — Winnie the Pooh
Any day spent with you is my favorite day. So, today is my new favorite day. — Winnie the Pooh
We didn't realize we were making memories, we just knew we were having fun. — Funny Winnie the Pooh quotes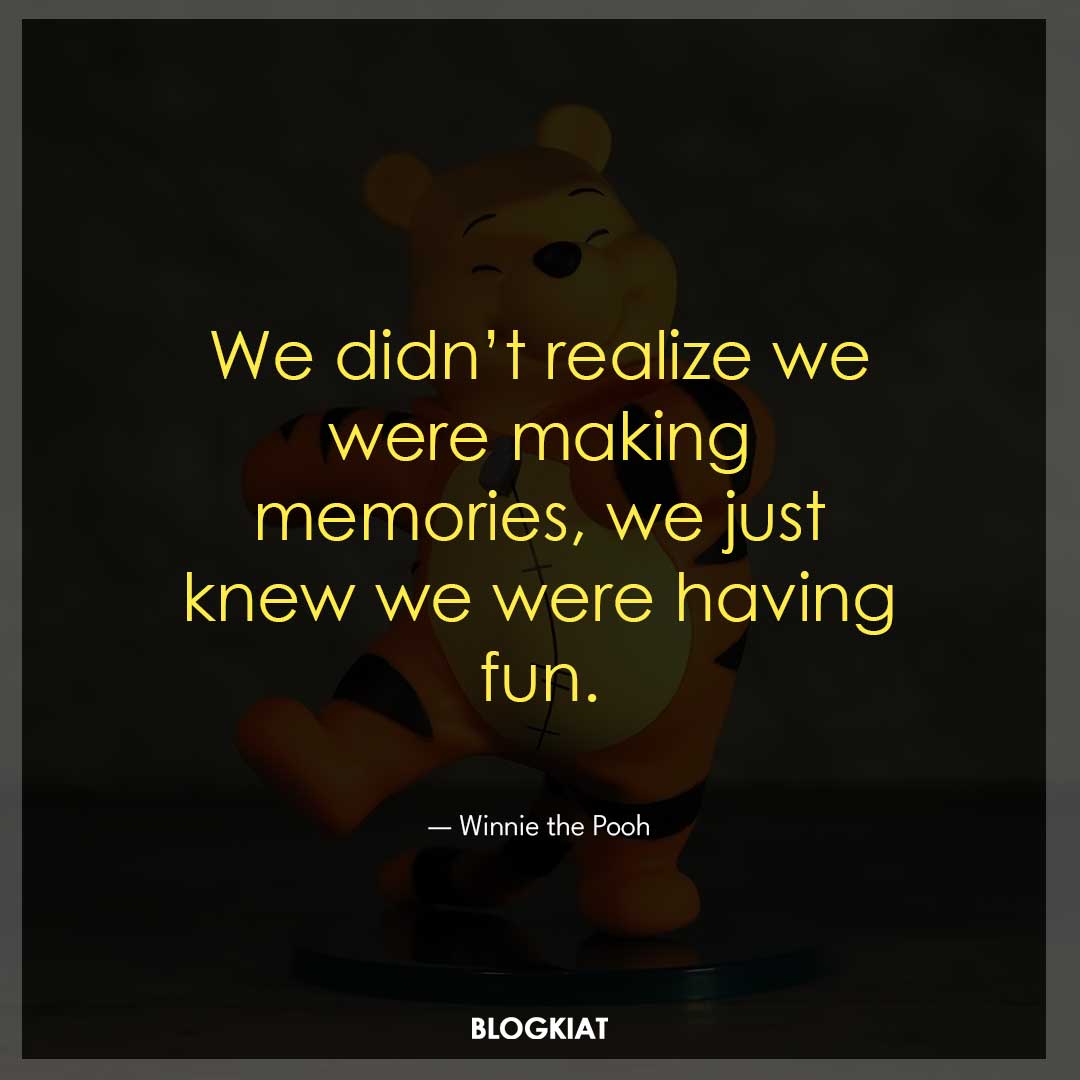 How lucky am I to have something that makes saying goodbye so hard. — Winnie the Pooh
Disclaimer: All quotes credits goes to the respective writers/authors and full credits goes to them. We don't own any copyrights we have curated from various sources.