Michael Jordan is one of the acclaimed retired Basketball players of all times. In this article we will see some of the best motivational Michael Jordan quotes for boosting your confidence. But before that, let us have a quick look at Jordan's life and achievements.
Know more about Michael Jordan's life & achievements
Michael Jordan was born in North Carolina. His parents were modest banker and equipment supervisor. Since childhood Jordan was interested in Basketball, Baseball and Football. During his sophomore year, Jordan was 5'11" and denied a place in the basketball team as he did not meet the height requirement. Determined he trained hard and grew another 10cms i.e. 4 inches to earn a spot in the college basket ball team. He led his college team through many victories and finally graduated in geography.
In 1984 Jordan was selected with Third Overall Pick of the 1984 NBA draft (National Basketball Association) draft by Chicago Bulls. Jordan was selected for the ACC 50th Anniversary men's basketball team which the Atlantic Coast Conference organized to celebrate their 50 years by honoring 50 best players.
As Jordan started playing, he was extremely popular as the best rookie of the bulls. He started gaining popularity not just amongst fans but also the opposite arena. He was unanimously voted as All-Star starter by fans. This enraged the veterans who got jealous of the attention he was getting to be just a rookie. Due to this, players did a Freeze out on Jordan and no one would give him a pass.
Jordan remained unaffected and kept coming out victorious every time. Jordan's Dunk of all time was the one which broke the backboard during a Nike Exhibition Game. Afterwards, the shoes he wore were auctioned for a record price of $615,000. Other than Wilt Chamberlain, Jordan is the only player to score 3000points in a season. Jordan has an enormous defensive capability.
He was the first to record 100 blocked shots and 200 steals in a season. Jordan had cried holding the trophy when he won his first NBA Finals MVP award. His list of accomplishments are long. He has won 2 Gold Medals in the Olympic and Rookie of the Year; 2-times IBM award, 5-times NBA Most Valuable Player; 6-times NBA champion; 6-times NBA Finals Most Valuable Player; 10-times All-NBA First Team; 9-times All-Defensive First Team; 14-times NBA All-Star; Defensive Player of the Year; 3-times NBA All-Star Most Valuable Player; Ten scoring titles — an NBA record and 7 consecutive matching Wilt Chamberlain; Hall of Fame inductee, 50th Anniversary All-Time Team and many more. Michael Jordan is the only player to have retired with a highest scoring average of 30.1ppg. Jordan was honored with the Presidential Medal of Freedom by President Barack Obama in the year 2016.
Michael Jordan was very close to his father since childhood and his father's murder caused him to announce his first retirement from Basketball in 1993 and joined Baseball. Later in 1995 he announced his come back to Basketball and played aggressively until his second retirement in 1999. In 2001 he again returned to NBA and donated his salary to a relief fund for 9/11 attack victims. In February 2003, Jordan played his 14th and final NBA-All Star game and became the first 40 years old player to get 43 points.
Jordan is known not only for his game but also his style and brand endorsements.  He was a part of Air Jordan sneaker campaign. Michael Jordan also played a fictional version of his own self in the movie Space Jam as a star. He also authored 4 books on his own life. Further let us see some of Michael Jordan Quotes in the coming paragraphs. He also played a huge role in globalizing the NBA and in the process became a culture icon. Post retirement he owns his cloth line brand called Jordan Brand. Since 2004 he also a professional motorcycle racing team called Michael Jordan Motorsports.
Here are 20 Motivational Michael Jordan Quotes:
1. Sometimes, things may not go your way, but the effort should be there every single night. – Michael Jordan
2. Talent wins games, but teamwork and intelligence wins championships. – Michael Jordan
3. If you do the work you get rewarded. There are no shortcuts in life. – Michael Jordan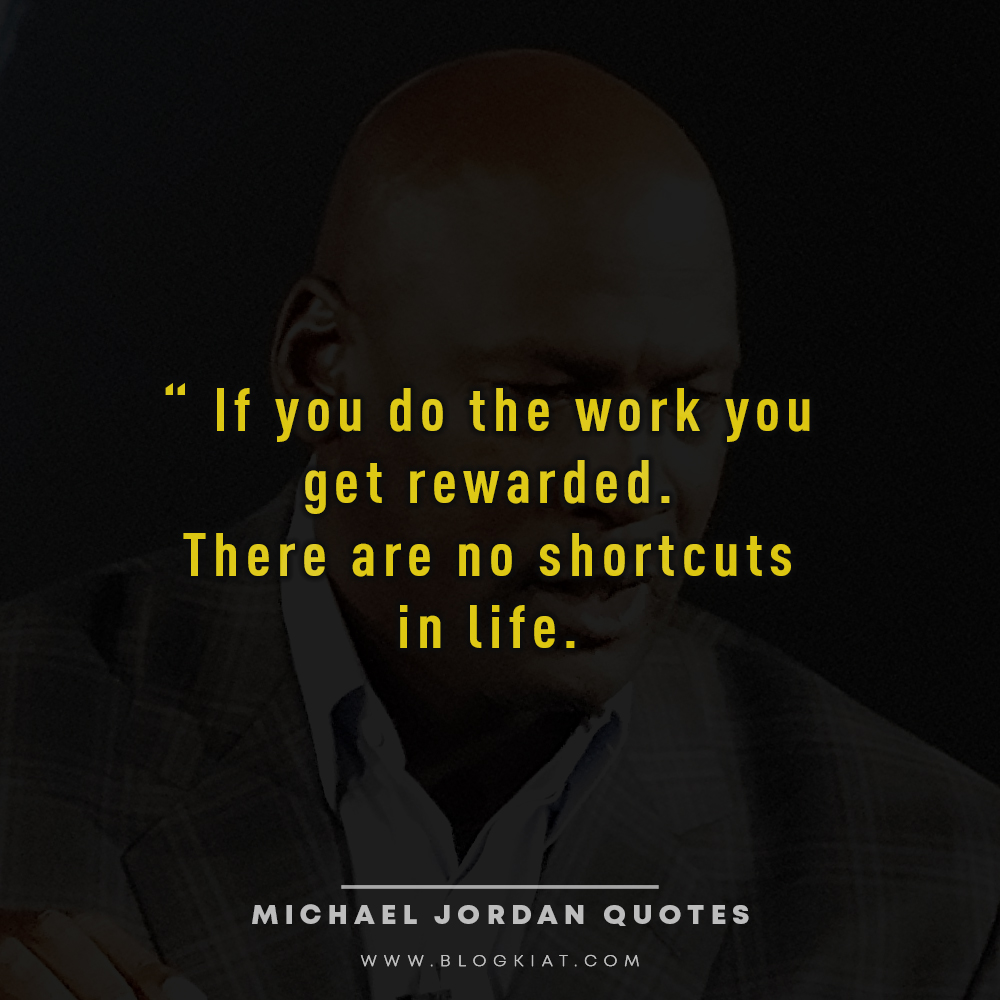 4. I realized that if I was going to achieve anything in life I had to be aggressive. I had to get out there and go for it. – Michael Jordan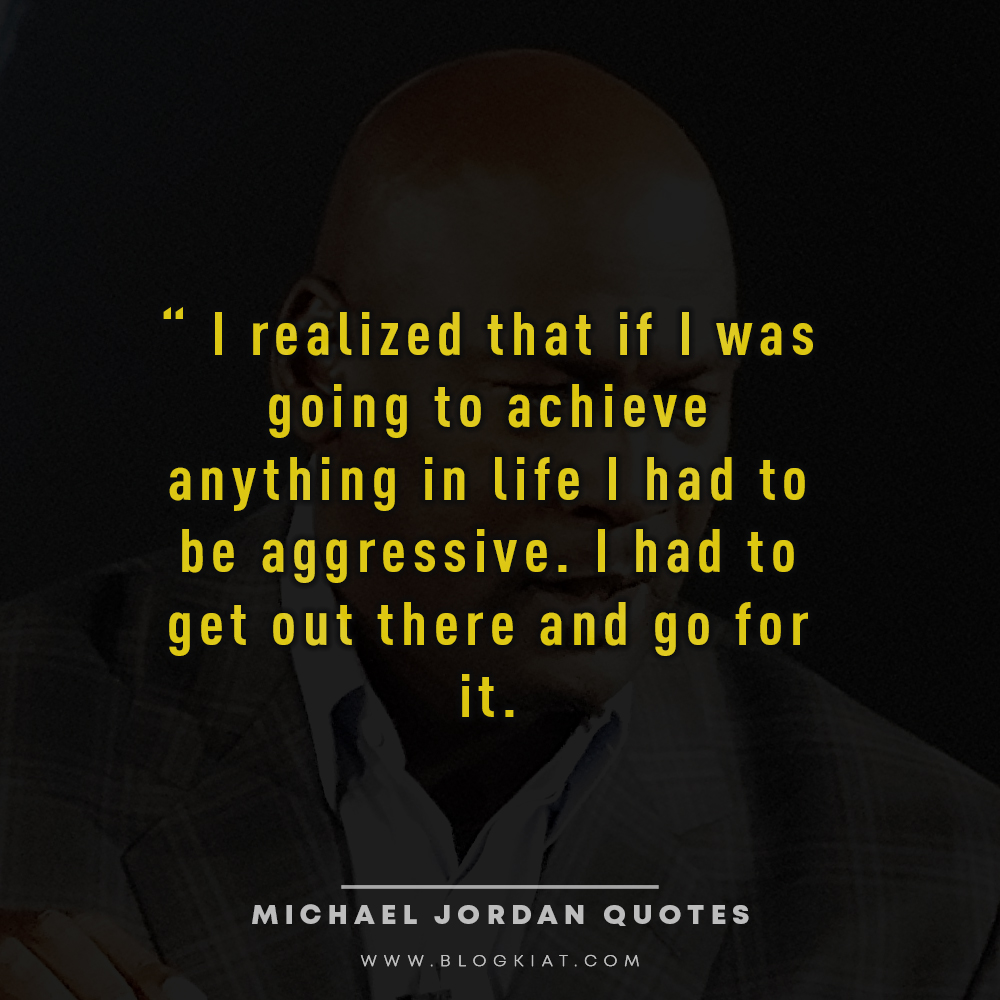 5. Don't let them drag you down by rumors, just go with what you believe in. – Michael Jordan
6. You have to expect things of yourself before you can do them. – Michael Jordan
7. Obstacles don't have to stop you. If you run into a wall, don't turn around and give up. Figure out how to climb it, go through it, or work around it. – Michael Jordan
8. Failure is acceptable. but not trying is a whole different ball park. – Michael Jordan
9. If it turns out that my best wasn't good enough, at least I won't look back and say I was afraid to try. – Michael Jordan
10th
Michael Jordan Best Quote

.  Always turn a negative situation into a positive situation. – Michael Jordan
11. You have competition every day because you set such high standards for yourself that you have to go out every day and live up to that. – Michael Jordan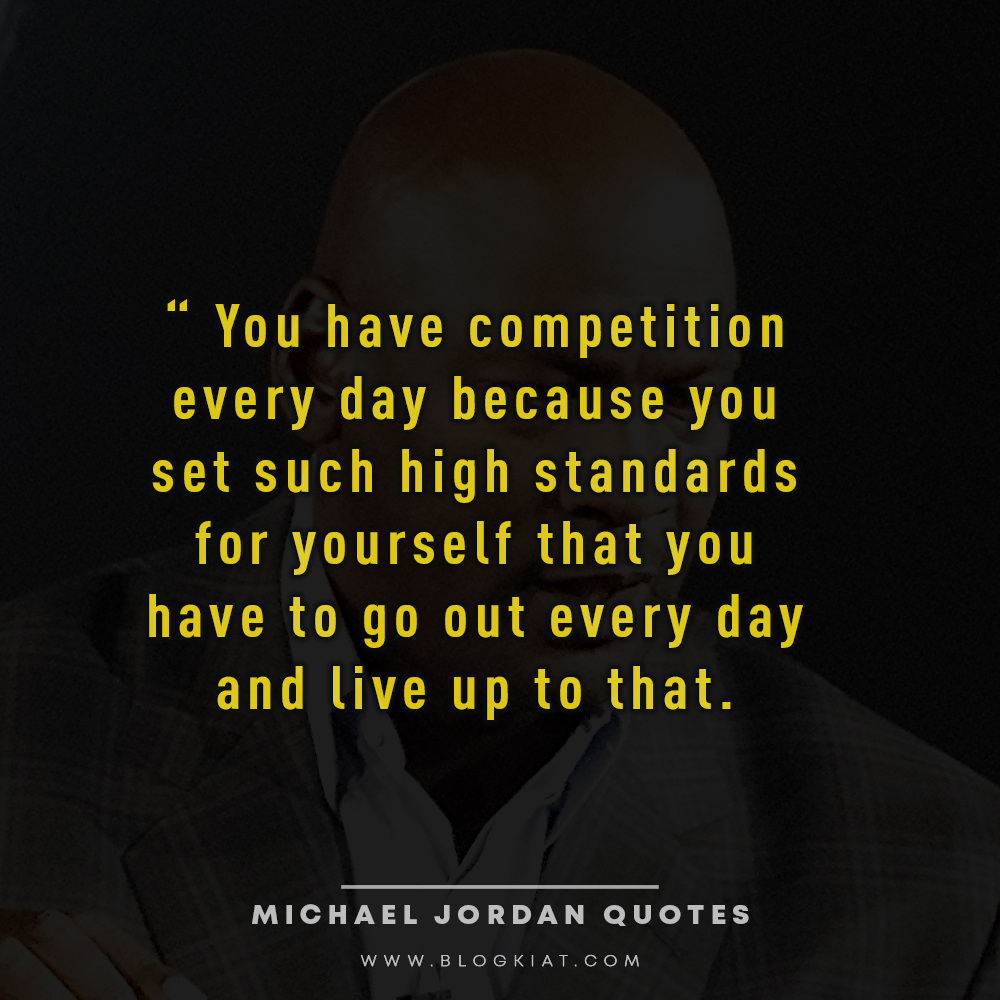 12. Sometimes you need to get hit in the head to realize that you're in a fight. – Michael Jordan
13. It's absolutely wrong that I don't want guys to challenge me. And the people who say that aren't in the room. – Michael Jordan
14. Some people want it to happen, some wish it would happen, others make it happen. – Michael Jordan
15. I know fear is an obstacle for some people, but it is an illusion to me. Failure always made me try harder the next time. – Michael Jordan
16. Best evaluation I can make of a player is to look in his eyes and see how scared they are. – Michael Jordan
17. To be successful you have to be selfish, or else you never achieve. And once you get to your highest level, then you have to be unselfish. Stay reachable. Stay in touch. Don't isolate. – Michael Jordan
18. How many times have your parents told you not to do things, and the next thing you know, you go do it? And you realized you shouldn't have done it. – Michael Jordan
19. I've always believed that if you put in the work, the results will come. – Michael Jordan
20. In reality, I never want to grow up. – Michael Jordan