15 Jerry Garcia Quotes to Inspire and Reflect On
If you're a fan of Jerry Garcia or the Grateful Dead, or if you're simply looking for some inspiration, then this collection of quotes is for you.
Jerry Garcia (August 1, 1942 – August 9, 1995) was an American musician known for being the principal songwriter, lead guitarist, and vocalist.
Jerry Garcia was a co-founder and the lead guitarist of the Grateful Dead, one of the most influential and iconic rock bands in history. The band's pioneering blend of rock, folk, country, and psychedelic music attracted a dedicated fanbase known as "Deadheads".
The Grateful Dead's live performances were legendary for their improvisational jams, creating a sense of community and adventure that kept fans coming back for more.
Jerry Garcia's career spanned several decades, and he remained active in the music industry until his passing in 1995. His ability to adapt and evolve with changing musical trends allowed him to maintain a dedicated fanbase and appeal to new generations of music enthusiasts.
In this blog, we'll explore some of best quotes by jerry garcia and the inspiration they provide.
Best Jerry Garcia Quotes
1. "You do not merely want to be considered the best of the best. You want to be considered the only one who does what you do." – Jerry Garcia
2. "Sometimes the lights all shining on me, other times I can barely see." – Jerry Garcia
3. "It's pretty clear now that what looked like it might have been some kind of counterculture is, in reality, just the plain old chaos of undifferentiated weirdness." – Jerry Garcia
4. "Constantly choosing the lesser of two evils is still choosing evil." – Jerry Garcia
5. "I'm shopping around for something to do that no one will like." – Jerry Garcia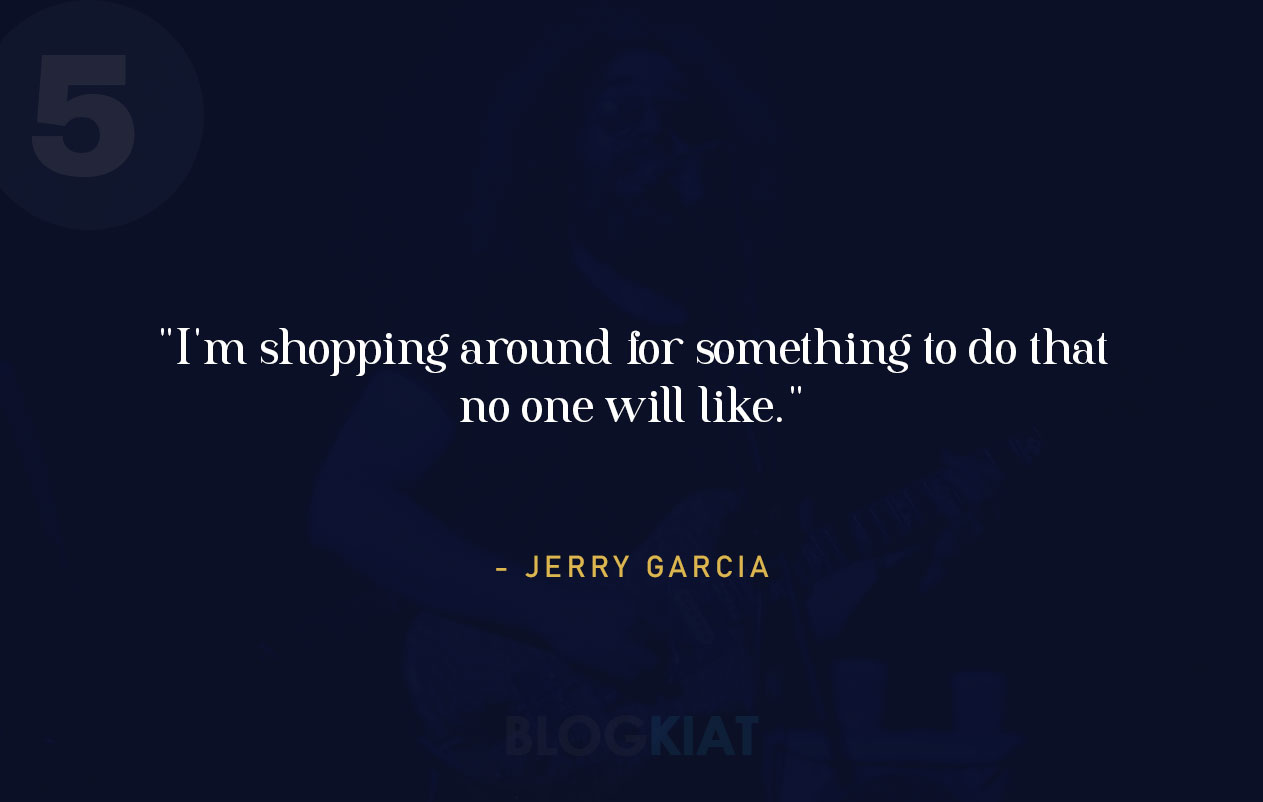 6. "Somebody has to do something, and it's just incredibly pathetic that it has to be us." – Jerry Garcia
7. "We're like licorice. Not everybody likes licorice, but the people who like licorice really like licorice." – Jerry Garcia
8. "You ain't gonna learn what you don't wanna know." – Jerry Garcia
9. "If we had any nerve at all, if we had any real balls as a society, or whatever you need, whatever quality you need, real character, we would make an effort to really address the wrongs in this society, righteously." – Jerry Garcia
10. "Nothing left to do but smile." – Jerry Garcia
11. "There is a road, no simple highway, between the dawn and the dark of night." – Jerry Garcia
12. "We would all like to see a world where art is no longer necessary, where artists are no longer necessary. But we're a long way from that." – Jerry Garcia
13. "And the live show is still our main thing." – Jerry Garcia
14. "Live life expecting the worst, hoping for the best, and living for the future!" – Jerry Garcia
15. "What is life but being conscious? And good and evil are manifestations of consciousness. If you reject one, you're not getting the whole thing that's there to be had." – Jerry Garcia
Also Check:
Disclaimer: All quotes credits goes to the respective writers/authors and full credits goes to them. We don't own any copyrights we have curated from various sources.