40 Risk Taking Quotes for Self-Improvement
Looking for risk taking quotes to inspire you to take the leap and achieve your goals?
Risk-taking is important in life for several reasons. Taking risks pushes individuals beyond their comfort zones, encouraging personal growth and development. When you step into the unknown, you learn new things about yourself, your capabilities, and your limits.
Risk-taking helps individuals conquer their fears and anxieties. It builds resilience and self-confidence, enabling people to face future challenges with greater strength.
Failure is an essential part of risk-taking. Even when risks don't lead to the desired outcome, they provide valuable learning experiences.
Here are best risk taking quotes for your inspiration to take the next step towards your goals!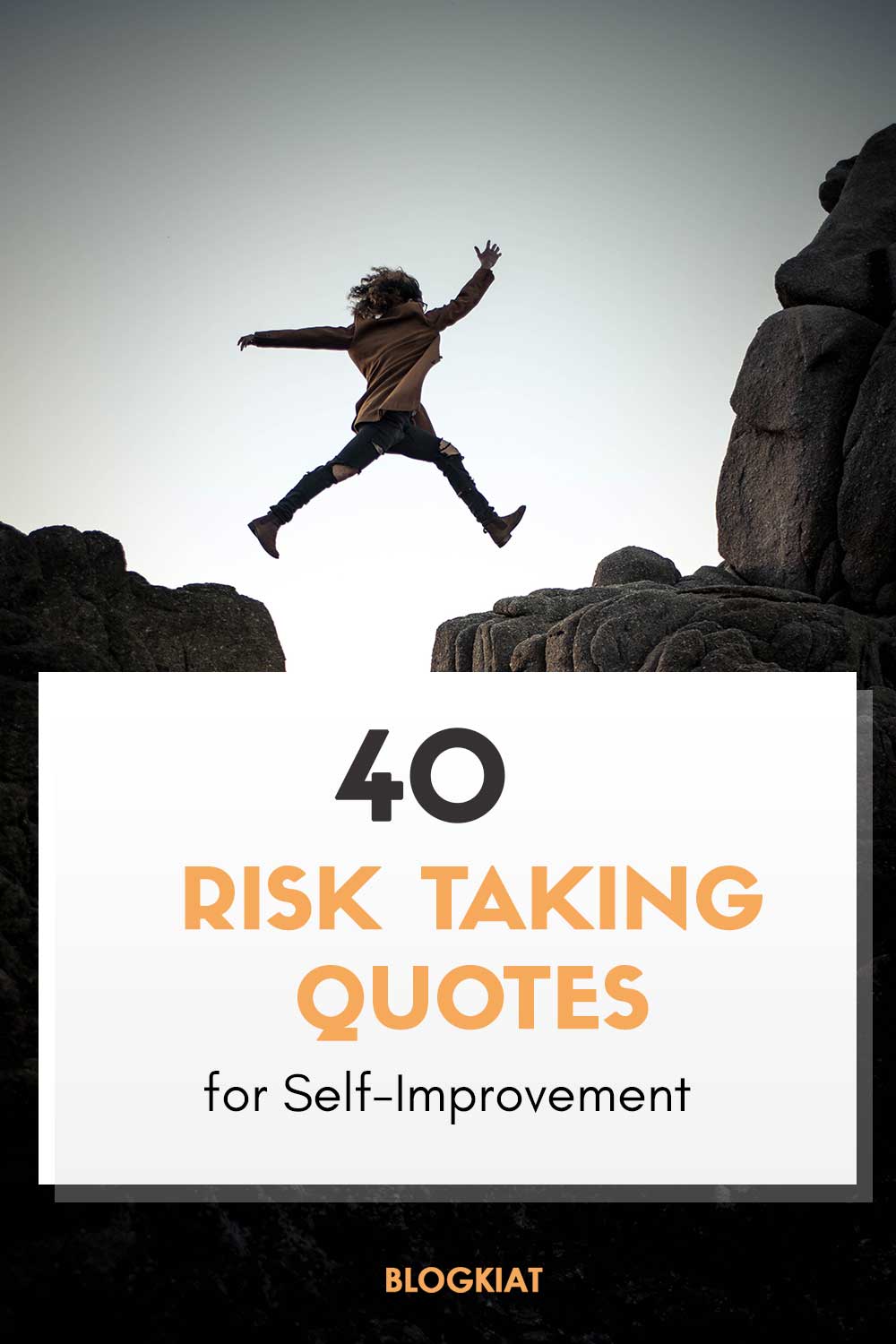 Best Risk Taking Quotes
"Life is either a daring adventure or nothing at all." – Helen Keller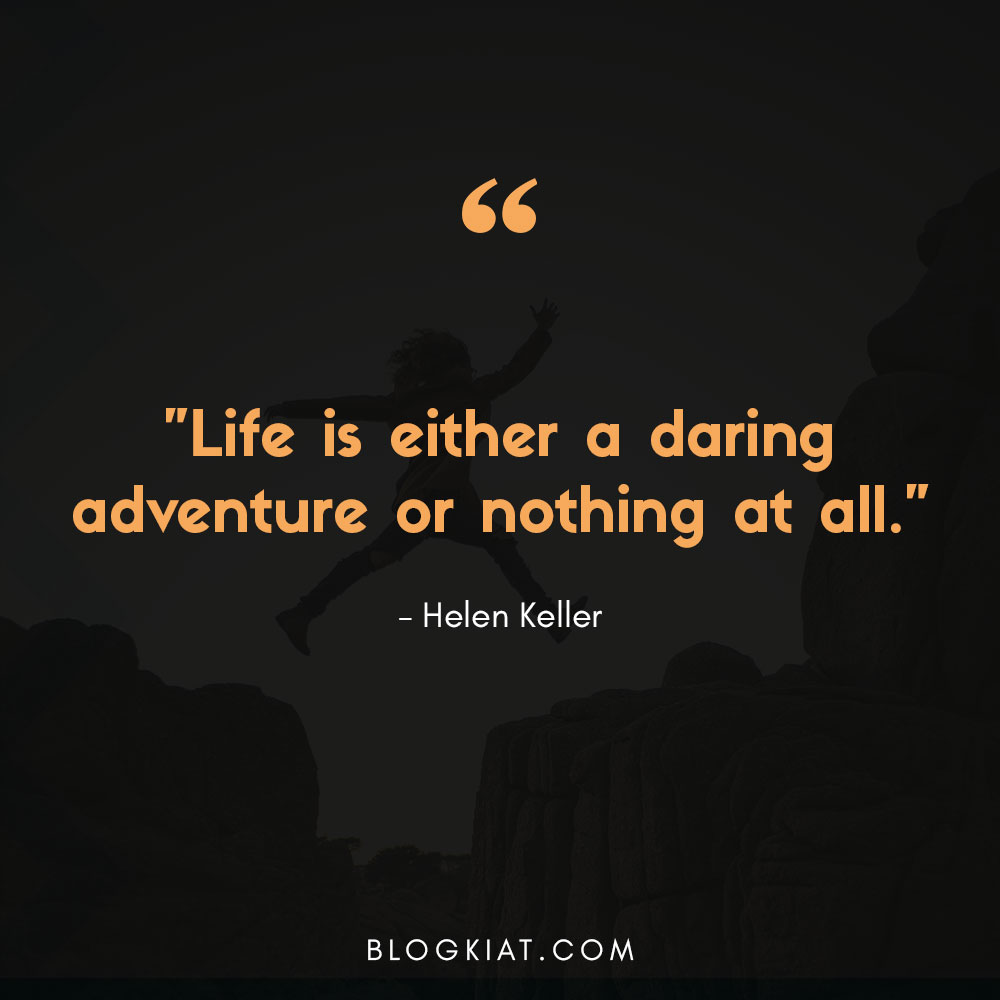 "To dare is to lose one's footing momentarily. To not dare is to lose oneself." – Søren Kierkegaard
"You can't cross the sea merely by standing and staring at the water." – Rabindranath Tagore
"Do not be embarrassed by your failures, learn from them and start again." – Richard Branson
"The biggest risk is not taking any risk. In a world that is changing quickly, the only strategy that is guaranteed to fail is not taking risks." – Mark Zuckerberg
"In the end, we only regret the chances we didn't take." – Lewis Carroll
"I can accept failure. Everyone fails at something. But I can't accept not trying." – Michael Jordan
"If you are not willing to risk the unusual, you will have to settle for the ordinary." – Jim Rohn
"The risk of a wrong decision is preferable to the terror of indecision." – Maimonides
"Don't be afraid to give up the good to go for the great." – John D. Rockefeller
"Taking a new step, uttering a new word, is what people fear most." – Fyodor Dostoevsky
"The only limit to our realization of tomorrow will be our doubts of today." – Franklin D. Roosevelt
"Adventure is worthwhile in itself." – Amelia Earhart
"Leap, and the net will appear." – John Burroughs
"You can't discover new oceans unless you have the courage to lose sight of the shore." – André Gide
"The person who risks nothing does nothing, has nothing, is nothing, and becomes nothing." – Leo Buscaglia
"Security is mostly a superstition. Life is either a daring adventure or nothing." – Helen Keller
"Twenty years from now, you will be more disappointed by the things you didn't do than by the ones you did do." – Mark Twain
"The only question to ask yourself is, how much are you willing to sacrifice to achieve this success?" – Larry Flynt
"Success is not final, failure is not fatal: it is the courage to continue that counts." – Winston Churchill
"Your time is limited, don't waste it living someone else's life." – Steve Jobs
"Great deeds are usually wrought at great risks." – Herodotus
"I'd rather regret the things I've done than regret the things I haven't done." – Lucille Ball
"A ship in harbor is safe, but that is not what ships are built for." – John A. Shedd
"It's not because things are difficult that we dare not venture. It's because we dare not venture that they are difficult." – Lucius Annaeus Seneca
"You have to take risks. We will only understand the miracle of life fully when we allow the unexpected to happen." – Paulo Coelho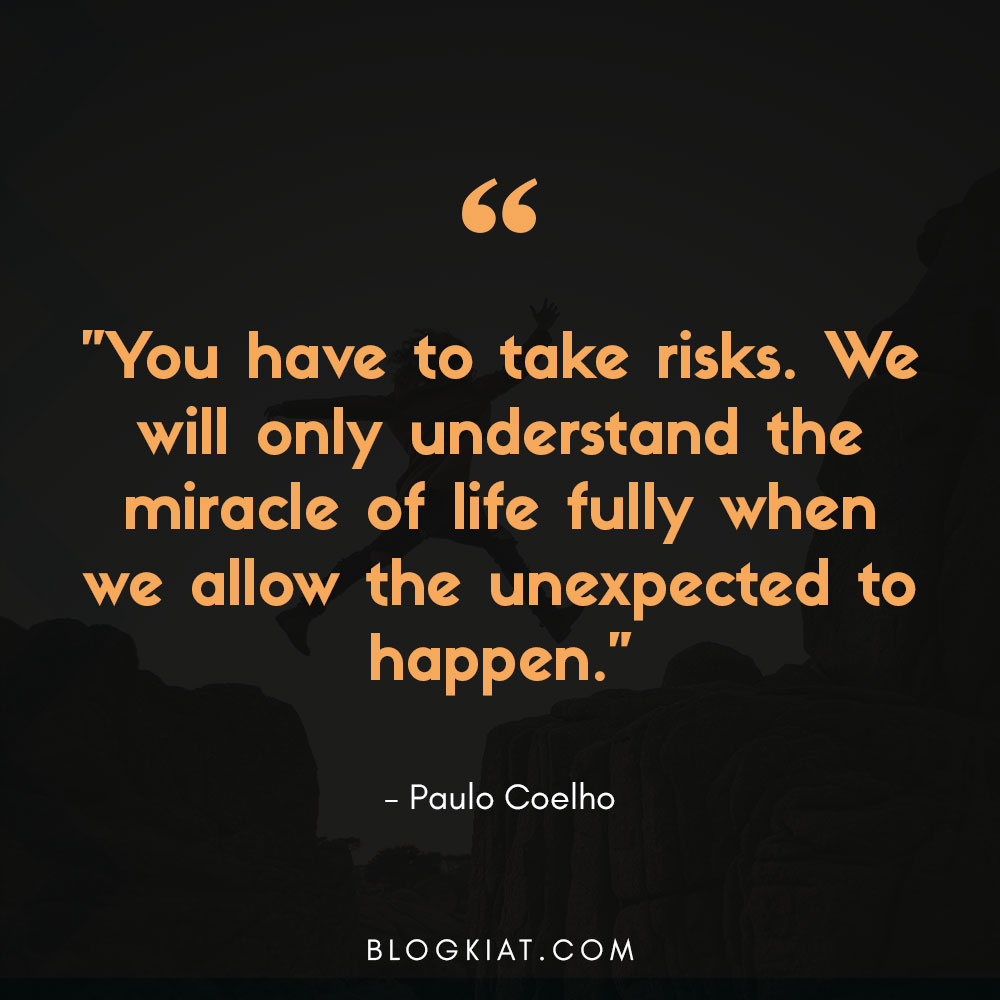 "Don't be too timid and squeamish about your actions. All life is an experiment." – Ralph Waldo Emerson
"There is freedom waiting for you on the breezes of the sky. And you ask, 'What if I fall?' Oh, but my darling, what if you fly?" – Erin Hanson
"You must do the thing you think you cannot do." – Eleanor Roosevelt
"Risk comes from not knowing what you're doing." – Warren Buffett
"The future belongs to the risk-takers, not the security seekers. The more you seek security, the less of it you have." – Brian Tracy
"The only thing standing between you and your goal is the story you keep telling yourself as to why you can't achieve it." – Jordan Belfort
"Opportunities don't happen. You create them." – Chris Grosser
"Doubt kills more dreams than failure ever will." – Suzy Kassem
"When you take risks, you learn that there will be times when you succeed and there will be times when you fail, and both are equally important." – Ellen DeGeneres
"To win without risk is to triumph without glory." – Pierre Corneille
"If you're not a risk taker, you should get the hell out of business." – Ray Kroc
"Courage is the most important of all the virtues because without courage, you can't practice any other virtue consistently." – Maya Angelou
"Life begins at the end of your comfort zone." – Neale Donald Walsch
"The trouble with not taking a risk is that you can spend your whole life wondering what might have been." – Anonymous
Disclaimer: All quotes credits goes to the respective writers/authors and full credits goes to them. We don't own any copyrights we have curated from various sources.