45 Helping Others Quotes for Everyday Inspiration
Discover daily inspiration with our collection of heartwarming Helping Others Quotes. Embrace the power of kindness and compassion as these quotes inspire you to make a positive impact every day.
Helping others is an inspiration because it allows us to connect with our shared humanity, make a positive impact on the world, and experience the joy of giving.
Helping others builds empathy and compassion. It enables us to understand their challenges and view the world from their perspective. This can help us build stronger relationships and create a more just and compassionate society.
Importantly, helping others breaks down barriers and cultivates empathy. It can help for a deeper understanding of the shared human experience.
Start your day with a dose of positivity and a commitment to creating a better world for all.
Best Helping Others Quotes
"No one has ever become poor by giving." – Anne Frank
"The best way to find yourself is to lose yourself in the service of others." – Mahatma Gandhi
"We rise by lifting others." – Robert Ingersoll
"Service to others is the rent you pay for your room here on Earth." – Muhammad Ali
"We're All In This Together. Each And Every One Of Us Can Make A Difference By Giving Back." — Beyoncé
"If You're Not Making Someone Else's Life Better, Then You're Wasting Your Time." — Will Smith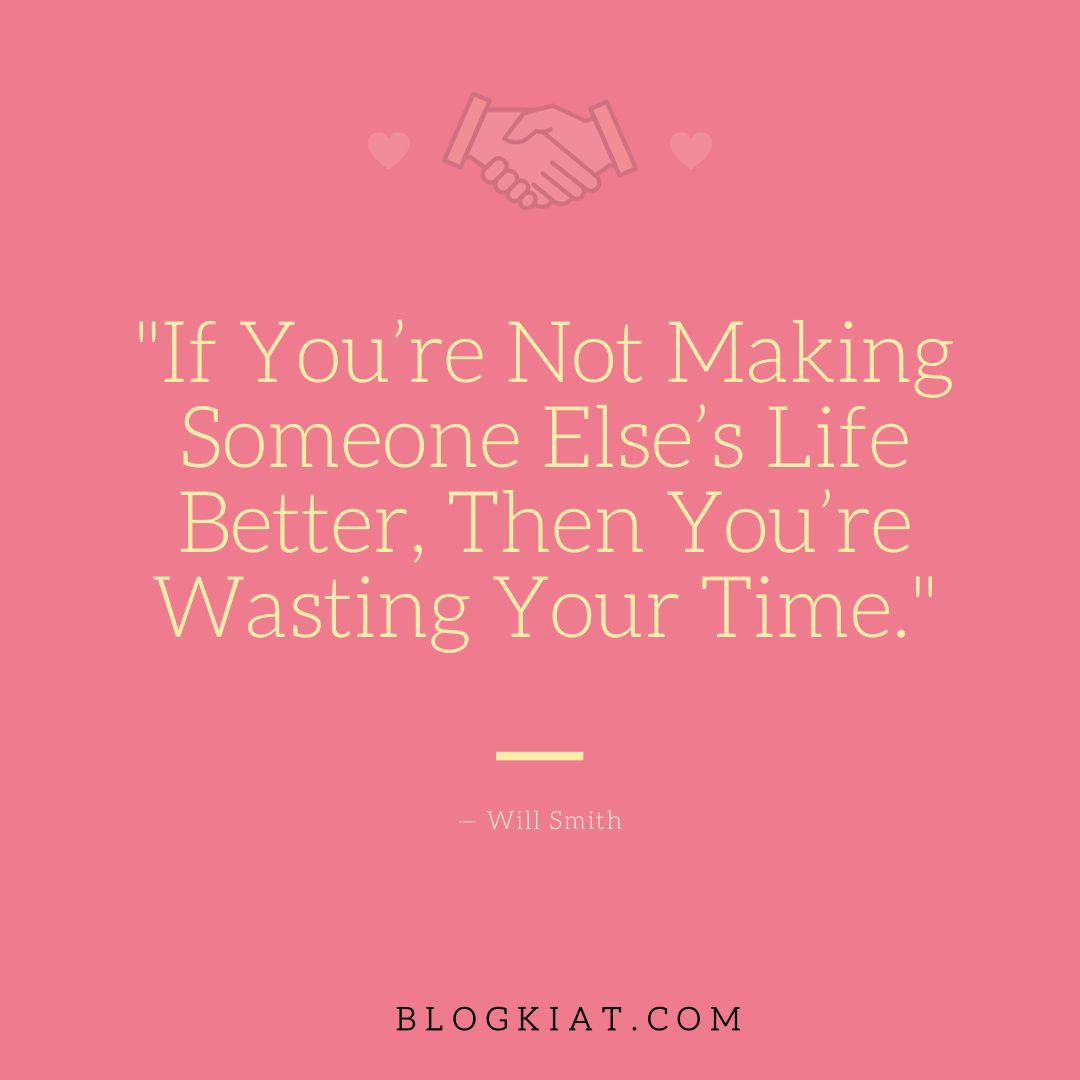 "You Feel Alive To The Degree That You Feel You Can Help Others." — John Travolta
"A Hero Is Someone Who Is Willing To Help Others In His Or Her Best Capacity." — Ricky Martin
"They Say To Serve Is To Love. I Think To Serve Is To Heal, Too." — Viola Davis
"There is nothing more beautiful than someone who goes out of their way to make life beautiful for others." – Mandy Hale
"Those who are happiest are those who do the most for others." – Booker T. Washington
"The simple gift of giving becomes an elaborate rich aftertaste of a natural blissful feeling, lingering endlessly in my lifetime." – Wes Adamson
"It is literally true that you can succeed best and quickest by helping others to succeed." – Napoleon Hill
"Let the echo of your footsteps spark a ray of hope in the heart of the hopeless and appear as help to the helpless." – Abhijit Naskar
"Every shine which destroys the darkness of others is a holy shine!" – Mehmet Murat ildan
"Helping others is a good effort to instill human dignity." – Gift Gugu Mona
"Ask not what I can get more from others, but instead what gift I have that can better help serve others more." – David Vosburg
"The most fulfilling times in my life are those times when I am helping others – Charmaine J Forde
"The purpose of human life is to serve and to show compassion and the will to help others." – Albert Schweitzer
"Helping one person might not change the world, but it could change the world for one person." – Unknown
"To ease another's heartache is to forget one's own." – Abraham Lincoln
"The smallest act of kindness is worth more than the grandest intention." – Oscar Wilde
"If you want happiness for an hour, take a nap. If you want happiness for a day, go fishing. If you want happiness for a year, inherit a fortune. If you want happiness for a lifetime, help someone." – Chinese Proverb
"You have not lived today until you have done something for someone who can never repay you." – John Bunyan
"We make a living by what we get, but we make a life by what we give." – Winston Churchill
"Generosity is giving more than you can, and pride is taking less than you need." – Khalil Gibran
"The true meaning of life is to plant trees, under whose shade you do not expect to sit." – Nelson Henderson
"If you light a lamp for someone else, it will also brighten your path." – Buddha
"To love and be loved is to feel the sun from both sides." – David Viscott
"Kindness in words creates confidence. Kindness in thinking creates profoundness. Kindness in giving creates love." – Lao Tzu
"You cannot do a kindness too soon because you never know how soon it will be too late." – Ralph Waldo Emerson
"Do things for people not because of who they are or what they do in return, but because of who you are." – Harold S. Kushner
"The best way to help yourself is to help others." – Unknown
"I am only one, but I am one. I cannot do everything, but I can do something. And I will not let what I cannot do interfere with what I can do." – Edward Everett Hale
"Service is the rent we pay for being. It is the very purpose of life, and not something you do in your spare time." – Marian Wright Edelman
"A kind gesture can reach a wound that only compassion can heal." – Steve Maraboli
"You can always give something, even if it is only kindness." – Anne Frank
"Kindness is a language that the deaf can hear and the blind can see." – Mark Twain
"The best way to predict the future is to create it." – Peter Drucker
"It's not enough to be compassionate. You must act." – Dalai Lama
"You don't need a reason to help people." – Zinedine Zidane
"Remember there's no such thing as a small act of kindness. Every act creates a ripple with no logical end." – Scott Adams
"No act of kindness, no matter how small, is ever wasted." – Aesop
"Life's most persistent and urgent question is, 'What are you doing for others?'" – Martin Luther King Jr.
"The purpose of our lives is to be happy." – Dalai Lama
Disclaimer: All quotes credits goes to the respective writers/authors and full credits goes to them. We don't own any copyrights we have curated from various sources.
FAQS(Frequently Asked Questions)
What is the significance of helping others in daily life?
Helping others in daily life is significant as it gives a sense of purpose, strengthens connections, and contributes to the well-being of both the giver and the receiver.
How can these quotes inspire me to make a difference?
These quotes serve as daily reminders of the power of kindness and compassion, motivating you to take positive actions and make a difference in the lives of others.
Are these quotes suitable for any age group?
Absolutely! These helping others phrases are relevant and inspiring for individuals of all ages.