50 Unforgettable Memories Quotes and Captions
Immerse yourself in a collection of 50 unforgettable memories quotes and captions that will bring you back to cherished moments and inspire you to create new ones.
Memories are the jewels of our lives. They are the treasures that we carry with us everywhere we go, reminding us of the good times and the bad, the people we love and the things we have learned.
Memories are what make us who we are, and they are what give our lives meaning.
These heartfelt expressions capture the essence of life's precious experiences, from laughter-filled adventures to quiet moments of reflection. So let's take a journey through the expressive qualities of words and let's enjoy the beauty of sweet memories.
Unforgettable Memories Quotes and Captions
"Memories take us back, dreams take us forward."
"Life is a collection of moments, and the moments we cherish become memories."
"The best things in life are the people we love, the places we've been, and the memories we've made along the way."
"A picture is worth a thousand words, but the memories are priceless."
"Some memories never fade."
"People change. Memories don't."
"Memories are sweet when created with the right people."
"Memories are timeless treasures of the heart."
"Making memories with you is my favorite thing to do."
"Our memories of the ocean will linger on, long after our footprints in the sand are gone."
"Life brings tears, smiles, and memories. The tears dry, the smiles fade, but the memories last forever."
"Capture the moments and keep them in your heart forever."
"Sometimes you will never know the value of a moment until it becomes a memory."
"Memories are the key not to the past but to the future." – Corrie Ten Boom
"Every moment matters, and every moment is a memory in the making."
"We didn't realize we were making memories; we just knew we were having fun."
"Some memories never fade, and some stories are meant to be told."
"Memories are the treasures that we keep locked deep within the storehouse of our souls, to keep our hearts warm when we are lonely."
"A moment lasts all of a second, but the memory lives on forever."
"Our lives are made up of a series of moments, and the memories we create are the threads that tie them together."
"Life is short, and the world is wide. I better get started making memories."
"Life is beautiful, and so are the memories we create."
"Memories are like a box of chocolates; you never know what you're going to get." – Forrest Gump
"The best way to make lasting memories is to live in the moment."
"We do not remember days; we remember moments."
"Treasure the moments that capture your heart."
"With each passing day, we create new memories to cherish."
"The most beautiful moments in life are the ones you can't put into words."
"Your memories are your most precious possession. They are the fabric of your soul."
"Every day is a journey, and the journey itself is home." – Basho
"In the end, we will remember not the words of our enemies, but the silence of our friends." – Martin Luther King Jr.
"I can't change the direction of the wind, but I can adjust my sails to always reach my destination." – Jimmy Dean
"Life is too important to be taken seriously." – Oscar Wilde
"Happiness is not something ready-made. It comes from your actions." – Dalai Lama
"In the book of life, the answers aren't in the back." – Charles M. Schulz
"To the well-organized mind, death is but the next great adventure." – J.K. Rowling
"Life is a one-time offer. Use it well."
"Adventure is worthwhile in itself." – Amelia Earhart
"Life is short, and it is up to you to make it sweet." – Sarah Louise Delany
"The biggest adventure you can take is to live the life of your dreams." – Oprah Winfrey
"Every day is a chance to create a memory."
"Life is a journey that must be traveled no matter how bad the roads and accommodations." – Oliver Goldsmith
"You don't have to be rich to travel well." – Eugene Fodor
"Life is a great adventure, and the worst of all fears is the fear of living." – Theodore Roosevelt
"Adventure is calling, and I must go."
"Life is an adventure, not a package tour." – Eckhart Tolle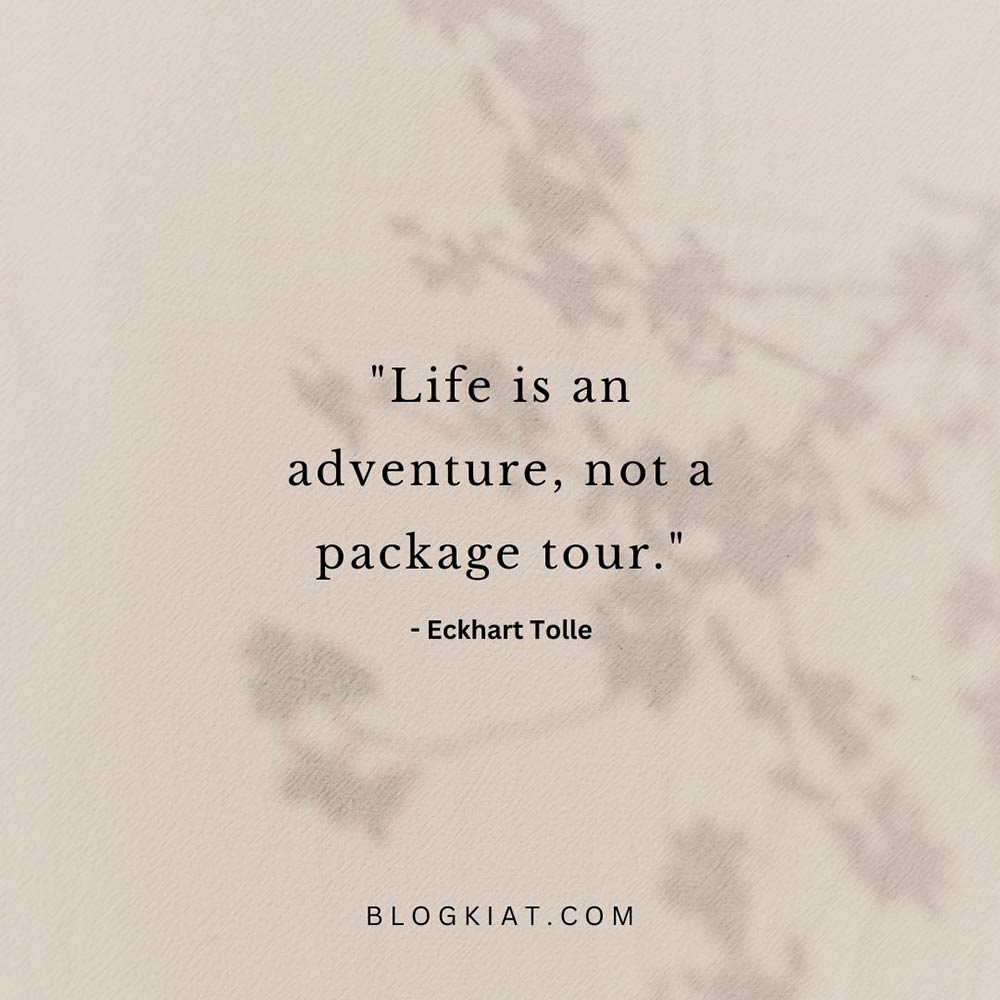 "Adventure may hurt you, but monotony will kill you."
"To live will be an awfully big adventure." – Peter Pan
"Travel makes one modest, you see what a tiny place you occupy in the world." – Gustave Flaubert
"I travel not to go anywhere but to go. I travel for travel's sake. The great affair is to move." – Robert Louis Stevenson
"Life is either a daring adventure or nothing at all." – Helen Keller
Disclaimer: All quotes credits goes to the respective writers/authors and full credits goes to them. We don't own any copyrights we have curated from various sources.