25 Tony Robbins Quotes On Gratitude
Author, entrepreneur, and motivational speaker Tony Robbins (real name Anthony J. Robbins) is from the United States. Born in North Hollywood, California, on February 29, 1960.
Tony Robbins has provided impactful guidance and insights that have helped many individuals in their personal development. Our beliefs play a crucial part in determining how our lives will turn out, which was his main intention.
At the core of Robbins philosophy is a simple yet powerful mantra: Success is achieved through unwavering, determined action. He motivates people to set clear objectives and take immediate, unwavering, and consistent steps towards realising their goals.
Tony Robbins has worked with and coached a number of notable people, including corporate executives, athletes, and even well-known celebrities.
Some of his best-known books include "Awaken the Giant Within", "Unlimited Power", and "Money: Master the Game".
Here's 25 best tony robbins quotes on gratitude to achieve success and happiness.
Best Tony Robbins Quotes On Gratitude
"Trade your expectations for appreciation, and your world changes instantly."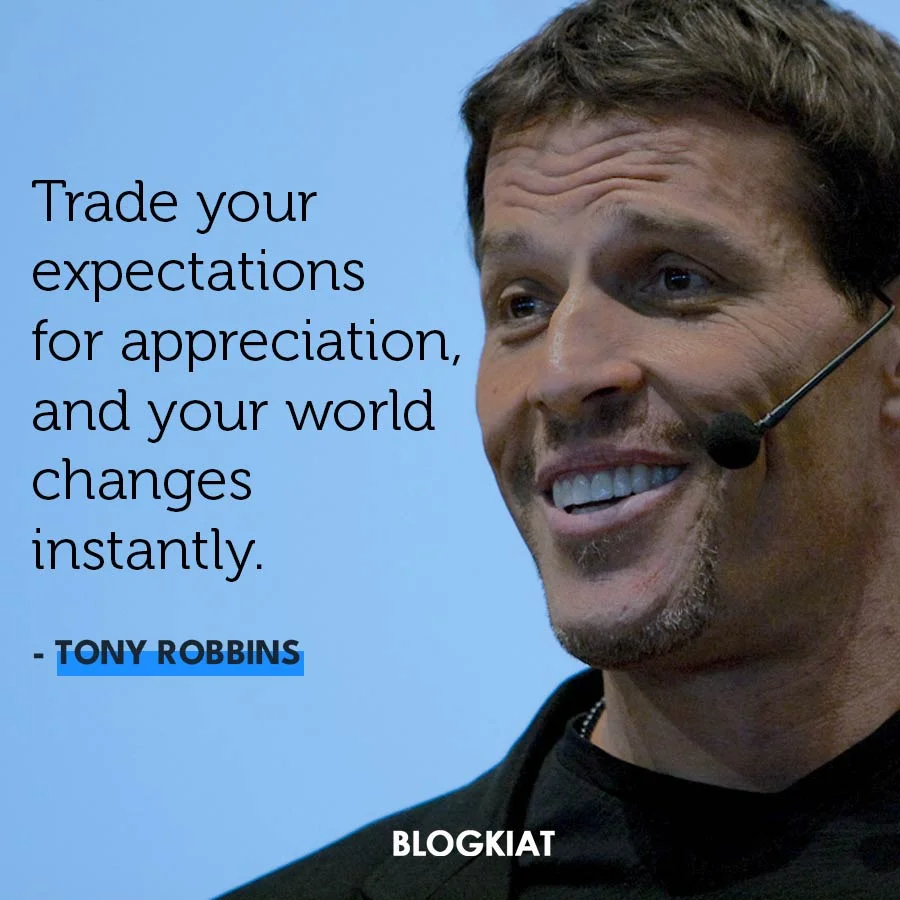 "Gratitude is the antidote to the two things that stop us: fear and anger."
"When you are grateful, fear disappears, and abundance appears."
"The more you are grateful for, the more you will find to be grateful for."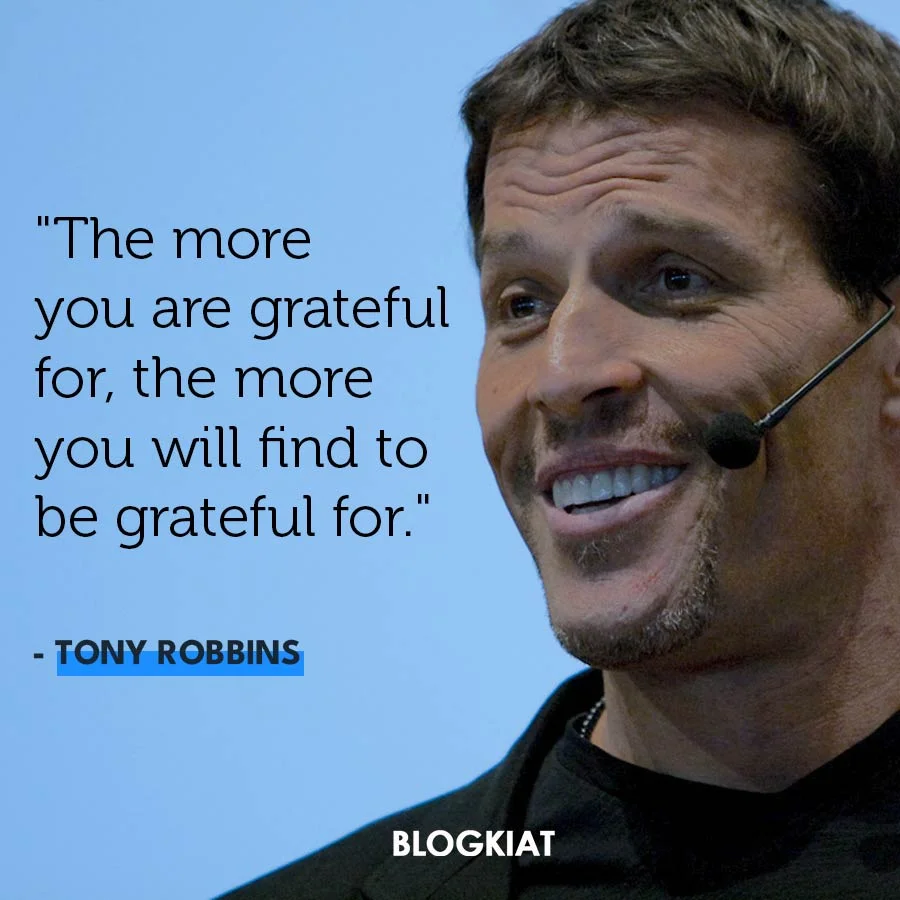 "The secret to wealth is simple: Find a way to do more for others than anyone else does. Become more valuable. Do more. Give more. Be more. Serve more."
"It's not what we get, but who we become, what we contribute… that gives meaning to our lives."
"The quality of your life is in direct proportion to the amount of uncertainty you can comfortably live with."
"It's not about the goal. It's about growing to become the person that can accomplish that goal."
"The secret of success is learning how to use pain and pleasure instead of having pain and pleasure use you. If you do that, you're in control of your life. If you don't, life controls you."
"Life is always happening for us, not to us. It's our job to find out where the benefit is."
"If you want to be successful, find someone who has achieved the results you want and copy what they do and you'll achieve the same results."
"The path to success is to take massive, determined action."
"You don't have to have a reason to feel good—you're alive; you can feel good for no reason at all!"
"It is in your moments of decision that your destiny is shaped."
"Your income right now is a result of your standards, it is not the industry, it is not the economy."
"Success is doing what you want, when you want, where you want, with whom you want, as much as you want."
"The secret to living is giving."
"To effectively communicate, we must realize that we are all different in the way we perceive the world and use this understanding as a guide to our communication with others."
"In life, you either need inspiration or desperation."
"Your past does not equal your future."
"Take control of your consistent emotions and begin to consciously and deliberately reshape your daily experience of life."
"In essence, if we want to direct our lives, we must take control of our consistent actions. It's not what we do once in a while that shapes our lives, but what we do consistently."
"The meeting of preparation with opportunity generates the offspring we call luck."
"You either master money, or, on some level, money masters you."
"Success is doing what you love and being able to give it back to others."
Disclaimer: All quotes credits goes to the respective writers/authors and full credits goes to them. We don't own any copyrights we have curated from various sources.