50+ Best Oktoberfest Instagram Captions And Quotes
The biggest beer festival in the world, Oktoberfest, honours German tradition, traditional cuisine, and, of course, a lot of beer. It's begins in late September and extends into the first weekend of October. The exact dates can vary slightly from year to year, but the festival usually lasts for about 16-18 days. When Is Oktoberfest Celebrated in 2023? In 2023, Oktoberfest will be held from September 16 to October 3.
One of the most popular celebrations in the world today is Oktoberfest. It's a time when people from all over the world gather to celebrate the joy of life by raising beer steins with friends and loved ones.
You'll need the ideal captions and quotes when you share your Oktoberfest activities on Instagram in order to fully convey the festival's atmosphere.
We've put together a collection of the best Instagram captions and quotes for Oktoberfest that will make your pictures stand out and your followers "prost" to your Oktoberfest enthusiasm.
Best Oktoberfest Instagram Captions
"Prost to the good times and great beer at Oktoberfest!"
"Steins and good times at Oktoberfest 🍻"
"Lederhosen and dirndls: the official attire of Oktoberfest!"
"Sippin' and savorin' my way through Oktoberfest!"
"Ein Prosit! Cheers to Oktoberfest fun!"
"Bratwurst in one hand, beer in the other – that's how we Oktoberfest."
"Oktoberfest: where the beer flows like a river."
"Let's raise our steins to the best time of the year!"
"Wishing you a pretzel as big as your dreams!"
"I've got 99 problems, but a beer ain't one."
"The wurst is yet to come at Oktoberfest."
"Stein, stein, it's a stein-derful time!"
"In a relationship with beer during Oktoberfest 🍻❤️"
"Lederhosen: because pants are overrated."
"Sausage and sauerkraut, please and thank you!"
"Oktoberfest: where every hour is happy hour."
"Keep calm and Oktoberfest on!"
"Too much beer? Nein, never!"
"When in doubt, just add more beer."
"My heart belongs to beer and pretzels."
"Oktoberfest: the only time it's acceptable to spill beer."
"I'm here for the beer and the good vibes!"
"Sippin' on sunshine and suds at Oktoberfest."
"Drinking beer is easy. Finding the perfect pretzel is the real challenge."
"Let's taco 'bout Oktoberfest…wait, wrong cuisine!"
"Here for the beer and the memories!"
"This is my happy place: surrounded by beer and good friends."
"Pour decisions were made at Oktoberfest."
"I like my beer cold and my pretzels giant."
"Dancing through Oktoberfest like nobody's watching."
"Hops and dreams: the perfect combo at Oktoberfest."
"Bringing the Oktoberfest vibes wherever I go!"
"Lederhosen: because who needs pockets?"
"Oktoberfest – where friends become beer buddies."
"Here's to a stein-tastic Oktoberfest celebration!"
Oktoberfest Instagram Captions About the Food
"Bratwurst and pretzels: the stars of my Oktoberfest show!"
"Savoring every bite of authentic Bavarian cuisine at Oktoberfest."
"Prost to the perfect pairing of beer and bratwurst!"
"In a committed relationship with sauerkraut this Oktoberfest season."
"Steins and schnitzel – a match made in Oktoberfest heaven."
"One word: Pretzels. 🥨❤️ #Oktoberfest"
"I like my sausages how I like my beer – German and plentiful."
"When life gives you pretzels, dip them in mustard."
"Just here for the food and beer – is there anything else at Oktoberfest?"
"If you haven't had Bavarian food at Oktoberfest, you're missing out on life."
"Oktoberfest: Where calories don't count when it's about sausages and pretzels."
"Bratwurst, beer, and bliss – my Oktoberfest essentials!"
"Raising my stein to the best food on this side of the Rhine."
"Pretzels as big as my dreams and sausages as bold as my appetite."
"Schnitzel, sauerkraut, and steins – the three S's of Oktoberfest!"
"Just trying to fit in with the locals – one pretzel at a time."
"Bavarian bites and brews at their finest. 🍺🥨"
"In a love triangle with beer, bratwurst, and pretzels. ❤️🍻"
"Oktoberfest: Where my heart says gym, but my stomach says bratwurst."
"The only six-pack I need this Oktoberfest is a pack of pretzels and a stein of beer."
Oktoberfest Quotes
"Oktoberfest is the best of the best." – Wolfgang Amadeus Mozart
"In beer, there is freedom." – Benjamin Franklin
"You can't have a real country unless you have a beer and an airline. It helps if you have some kind of football team, or some nuclear weapons, but at the very least you need a beer." – Frank Zappa
"Beer, it's the best damn drink in the world." – Jack Nicholson
"I would give all my fame for a pot of ale and safety." – William Shakespeare
"Beer is proof that God loves us and wants us to be happy." – Benjamin Franklin
"I have respect for beer." – Russell Crowe
"Beer makes you feel the way you ought to feel without beer." – Henry Lawson
"I don't drink these days. I am allergic to alcohol and narcotics. I break out in handcuffs." – Robert Downey Jr.
"Beer, if drunk in moderation, softens the temper, cheers the spirit, and promotes health." – Thomas Jefferson
"I don't have a drinking problem, 'cept when I can't get a drink." – Tom Waits
"Beer is not the answer. Beer is the question. 'Yes' is the answer." – Unknown
"I'm on a whiskey diet. I've lost three days already." – Tommy Cooper
"The best beer is where locals drink." – Unknown
"Sometimes when I reflect back on all the beer I drink, I feel ashamed. Then I look into the glass and think about the workers in the brewery and all of their hopes and dreams. If I didn't drink this beer, they might be out of work, and their dreams would be shattered. Then I say to myself, 'It is better that I drink this beer and let their dreams come true than to be selfish and worry about my liver.'" – Babe Ruth
"Work is the curse of the drinking classes." – Oscar Wilde
"When I read about the evils of drinking, I gave up reading." – Henny Youngman
"I never drink water; that is the stuff that rusts pipes." – W. C. Fields
"In dog beers, I've only had one." – Unknown
"I feel sorry for people who don't drink. When they wake up in the morning, that's as good as they're going to feel all day." – Frank Sinatra
"I'm not an alcoholic, I only drink two times a year. When it's my birthday and when it's not my birthday." – Bill Murray
"I cook with wine, sometimes I even add it to the food." – W. C. Fields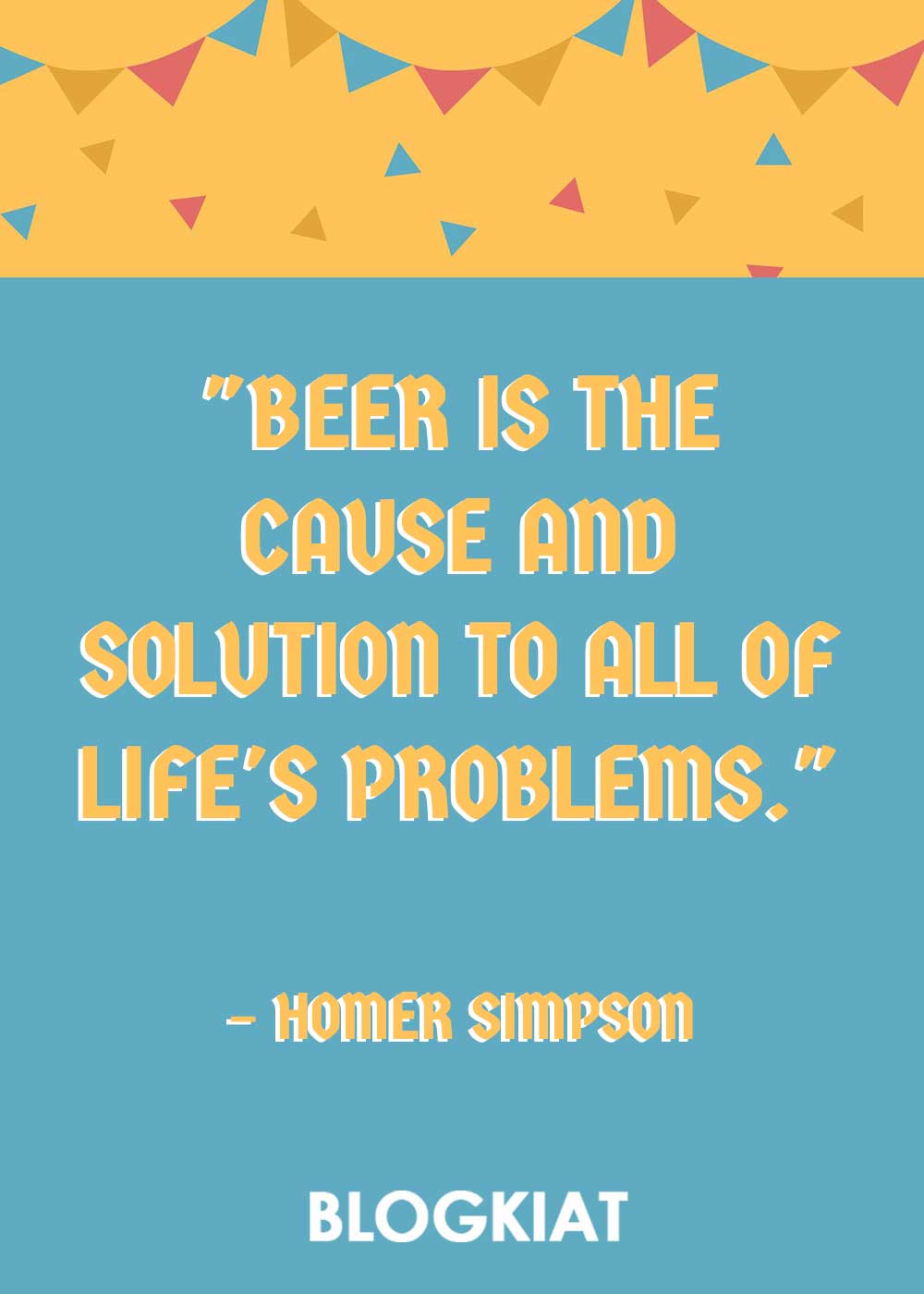 "Beer is the cause and solution to all of life's problems." – Homer Simpson
"Give a man a beer, waste an hour. Teach a man to brew, and waste a lifetime!" – Bill Owen
"The problem with the world is that everyone is a few drinks behind." – Humphrey Bogart
"I would kill everyone in this room for a drop of sweet beer." – Homer Simpson
"Alcohol may be man's worst enemy, but the Bible says love your enemy." – Frank Sinatra
"Life is brew-tiful." – Unknown
Disclaimer: All quotes/captions credits goes to the respective writers/authors and full credits goes to them. We don't own any copyrights we have curated from various sources.